This is a circa-50% folding keyboard with USB connection, for PDAs with USB host according to the review I found. It seems to be Russian-layout only; black caps with white Roman (English) legends, Cyrillic legends in red and functions in blue.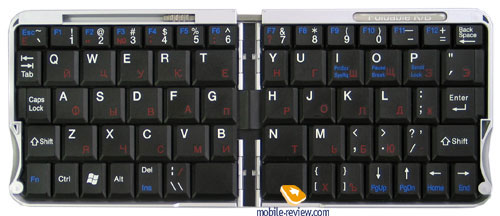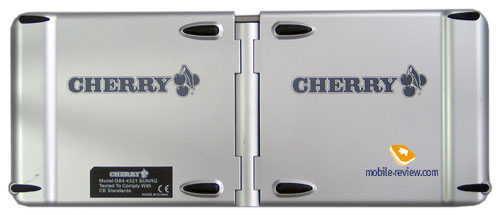 So far, so laptop-alike. But then we see the article number: G84-4321SUNRG. If this can be believed, it's got MLs and dyesub caps.
I'm slightly sceptical about the MLs - those number keys and the bottom row seem a bit small even for MLs - but Daniel Beardsmore thinks it could be plausible (having seen only the first two photos), so perhaps it's true.
Also, that's a slick dyesub job, to achieve white-on-black in 2005

... and I think I can make out some pad-printing marks on some of the white legends in this pic. (And also on the coloured legends, but that's to be expected.)
The only other variant of this I've seen has article number G84-4321LPNRG. But this, too, is described as a USB keyboard on various sites, which makes the P seem odd.
The back label appears to say "Made in China". So I'm assuming this is a project designed by a Russian branch of Cherry and produced in China, or else a Chinese design rebadged as Cherry and given an approximately-correct article number. Has anyone used one of these - and/or does anyone know whether these have MLs?
References:
Review and several more photos:
http://www.mobile-review.com/pda/review/cherry-kb-en.shtml
Other sites, including LPNRG version (all in Russian):
https://market.yandex.ru/product--cherry-g84-4321lpnrg-black-usb/904576
http://belgorod.nix.ru/autocatalog/keyboards_cherry/Klaviatura-Cherry-G84-4321SUNRG-USB-64KL-Mini_38604.html
https://naobzorah.ru/keyboard/cherry_g84-4321lpnrg_black_usb