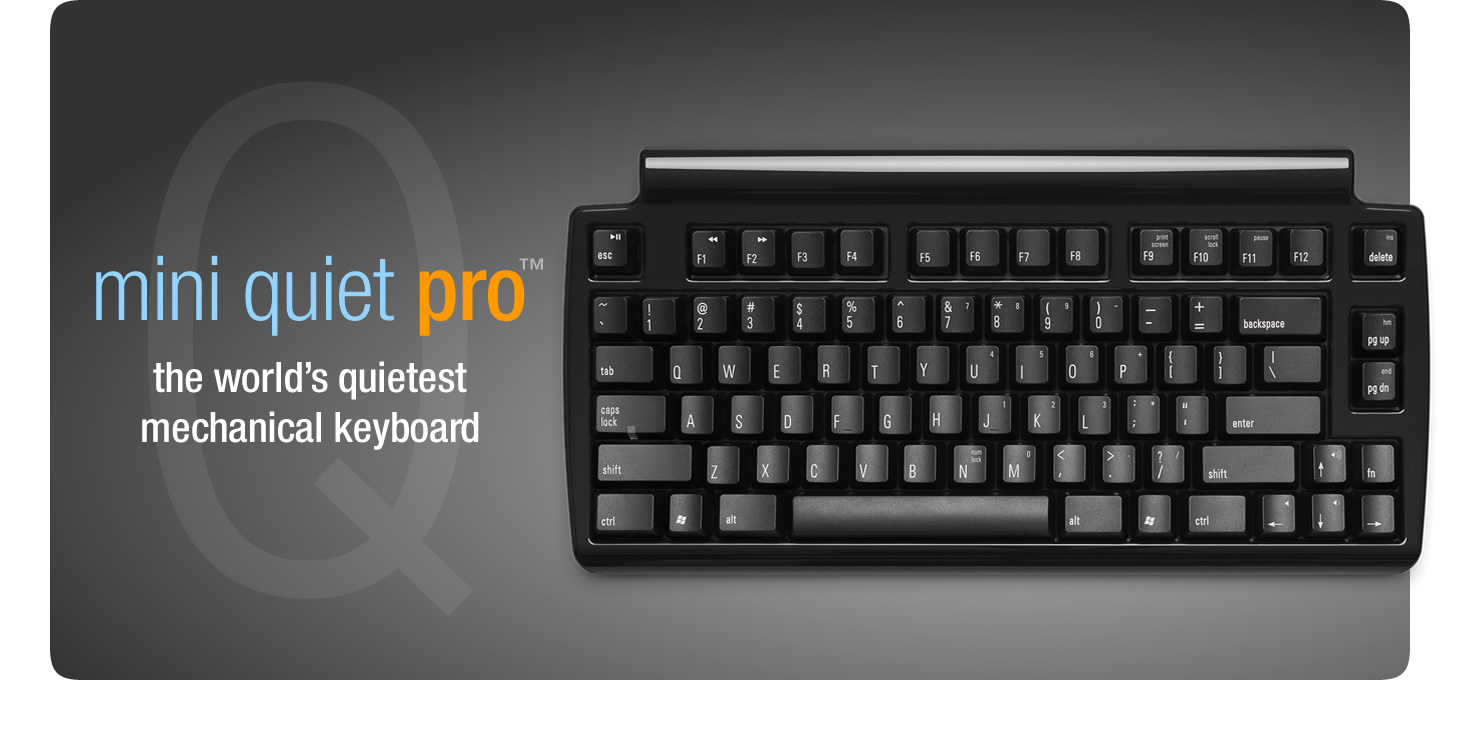 Introduction
First of all, I want to warn you dear colleagues that on this review the keyboard will be compared with many others which I have, including a
CM Storm Trigger
,
CM Quick Fire Rapid
,
Das Keyboard Model S Professional
,
Corsair Vengeance K70
,
Thermaltake Meka G-Unit
,
Logitech G710+
and
Noppoo Choc Mini
.
I'm sorry for the people who are rookies at the mechanical keyboard field, but I won't try to be "least technical as possible". Technical terms from the area will be used, the text will be quite long and I will make references to other mechanical keyboard brands and models during the text, thus I won't be "neutral" as some are. For those who already have mechanical keyboards or understand quite well about the area, even if you won't end up buying a
Matias Mini Quiet Pro
, please, read the article for didactic purposes.
Matias History and their keyboards
Matias
is a company with 13 years of experience in the mechanical keyboard market, although its CEO,
Edgar Matias
, has over 20 years of experience in the keyboard area, including keyboards for handy-capped people, such as the
Matias Half Keyboard
(which I believe to be their oldest keyboard) and they sell mechanical keyboards, membrane keyboards, special keyboards and accessories for portable devices.
The first mechanical keyboards from
Matias
started being sold in 2002, these being based on the
Apple Extended Keyboard
, which was already out of the market and used the
Cream ALPS
mechanical switches. The
Apple Extended Keyboard
was (and still is) considered by many mechanical keyboard enthusiasts and
Apple
fans as "the best keyboard
Apple
ever released".
Matias
was and still is a company very focused on the
Apple
market and shows that on several details on their products. And one of the reasons for that, is because mechanical keyboards only became, once again, popular with PCs in 2007~2009, with the release of gaming mechanical keyboards by brands such as
Steelseries
,
Gigabyte
,
Razer
,
Thermaltake
and others.
Matias
focuses especially on selling keyboards for professionals (journalists, doctors, lawyers, writers...) and has for competition brands such as
FILCO
(and the curious thing is that Diatec, owner of the FILCO brand, is a distributor of
Matias
keyboards in Japan),
Leopold
,
KBT
,
Das Keyboard
and doesn't competes directly with gaming brands.
Matias
is a veteran company from the mechanical keyboard field and shows their experience by being able to create a switch better than
Cherry MX
(up to the point of being copied by them, as on what happened with the
Cherry MX RGB
), as well as on the many great ideas implemented into their keyboards.
The
Matias Mini Quiet Pro
is currently the best-selling keyboard from
Matias
and one of the main reasons is because it promises to be the "
Quietest mechanical keyboard in the market
", a promise that is actually true.
Matias Mini Quiet Pro Review
The review will be separated in several segments, including:
- Analysis of the Matias Quiet switch
- External Build
- Internal Build
- Keycaps
- Layout and additional functions
Analysis of the Matias Quiet switch
The switches "
Matias Quiet
" and "
Matias Clicky
" were based, respectively, on the "
Cream ALPS
" and "
White ALPS
" switches, but both were heavily modified to allow enhancements.
"So, why only a few people ever heard about the
ALPS
switches and why almost no keyboard uses them nowadays?". Simple, the company know as
ALPS
, gave up on the mechanical keyboard market around the end of the 90s, due to the popularization of cheap Personal Computers and the ascension of
membrane
keyboards due to being far cheaper. The mechanical keyboard market just wasn't being profitable enough for them and
ALPS
was getting more money from other applications such as creating and selling mechanisms and switches for cars, electronics, computer mice and even consoles (the RESET button on the Super Nintendo was made by
ALPS
). Anyways, both for
ALPS
as well as for
Cherry
, the mechanical keyboard market is only the "
tip of the iceberg
".
And due to this reason,
ALPS
sold their rights over the production and sales of their switches to the factory that produced them, which was called "
FUHUA
", and although
membrane
keyboards and the necessity of cheaper PCs was one of the reasons why the
ALPS
switches weren't used anymore (though they were the market leader during 80s and start of 90s, DELL and Apple being some of their biggest customers), what really did actually "kill" the
ALPS
switches was
FUHUA
themselves.
Even having the rights over the switches,
FUHUA
unfortunately never put much of an effort into selling them. They never had even a single web-page, they rarely promoted their switches to other brands, they didn't invest in marketing nor research for creating new switches, their designs didn't allowed backlighting and although their switches were better than the
ALPS Clones
, their quality wasn't really all that much. Basically,
FUHUA
only filled orders from existing customers and constantly
threatened
to stop making their switches.
Matias
was one of
FUHUA's
few customers, using the
Cream ALPS
and
White ALPS
switches on their keyboards sold in between 2003 up until 2012, year on which
FUHUA
stopped producing
ALPS
switches.
But that wasn't the end of it. After years and years selling mechanical keyboards and many variations of their keyboards,
Matias
in 2010 decided to bet on something new and took 2 years to achieve it. They created two new switches, being based on the
Cream ALPS
and
White ALPS
switches, but modifying these to enhance aspects such as tactile feedback, allowing backlight (which wasn't possible on the original
ALPS
switches, only on their clones and by removing the click mechanism out of the switch) and even creating a mechanism to decrease the noise generated by the switch, a mechanism used on the "
Matias Quiet
" switch, which is currently the
quietest mechanical switch in the market
and their biggest seller.
Also, the
Matias
switches were the
first mechanical switches to allow RGB backlighting
, since they're transparent (yes,
Cherry
and
Kailh
copied this idea over from
Matias
) and this allows them to use backlighting systems similar or equal to the ones used in backlit membrane keyboards.
Switch Modifications and Repairs
A great advantage that the
Matias
switches bring over from the old
ALPS
switches, is that these are incredibly easy to open, repair and modify if necessary. This is also possible with
Cherry MX
keyboards, but the keyboard needs to be "
PCB-Mounted
", which unfortunately isn't very common due to how
plate-mounted
keyboards are more popular (especially due to the extra weight and how they feel).
Credits to Shaun Tan (http://www.youtube.com/user/undarken) for the video
Most of the mechanical keyboards found in the market (and basically any gaming mechanical keyboard) is
plate-mounted
, and thus it's not possible to do the same as seen on the video above, it's necessary to remove the switches soldering to repair or replace them.
And why would anyone want to open the switch? Well, besides the modification possibilities (ex: placing a heavier spring on the space bar), this can be something very interesting in case you spill soda/beer/juice over your keyboard. If the keyboard is
plate-mounted
, the best option is to replace the
Cherry MX
switch (and thus you need to know something about soldering). Now, when the keyboard is
PCB-Mounted
, you can open the
Cherry MX
switch, clean its internals, lube the spring, place it back and it should respond as it did before or even better.
But, the same doesn't applies to
Matias
and
ALPS
switches. You can open the switch easily regardless if it's
plate-mounted
or
PCB-Mounted
by using two small screwdrivers.
Credits to Ripster for the pictures (http://ripster.imgur.com)
Compatibility
Another point that was considered by
Matias
, was that their switches can and will be used by other brands. And thus, a new problem is born, is there a way to use the same project, PCB and controller with
Cherry MX
(or
MX RGB
) and
Matias
switches? Yes.
The
Matias
switches were designed to be compatible with
Cherry
switches, because they can use one of the holes used by
Cherry MX
as a hole from which the backlighting can go through (a concept that was later copied by
Cherry
). With some proper modification to the PCB, as seen on the Duck Keyboards, it can be done:
Credits to matt3o for the picture (http://deskthority.net/keyboards-f2/duckmini-v2-korean-custom-t6610.html)
Which means, if a certain brand wants to offer to their clients the choice between
Matias Quiet
,
Matias Clicky
and
Cherry MX RGB
, they can and the switches may even use the same backlighting system if there is one.
Silence
One of the main features and selling points of the
Matias Quiet Pro
and
Matias Mini Quiet Pro
is something quite simple and that many wished they could have on their mechanical keyboards: silence.
The
Matias Quiet
switch was designed from the start to be quiet, unlike
Cherry MX
switches, on which you can use
o-rings
to lower the noise a bit, but it doesn't reaches the same level as
Matias Quiet
and not everyone likes the difference on the feedback that these rubber bands can do (myself included).
Comparing it to other kinds of keyboards, the noise level that
Matias Quiet
switches produce is a bit similar to
scissor-switches
membrane keyboards, which are the ones used on low-profile
Apple
keyboards and Laptop keyboards.
Simply listening to sound recordings or reading text is not enough to prove anything regarding how quieter
Matias Quiet
switches are compared to
Cherry MX
, it is necessary to analyze the sounds created by each one through graphics and comparing the amplitude and frequencies generated by each. Thus, to test whether or not the
Matias Quiet
are more silent, we recorded 10 seconds of typing using different switches and checked out the results. The recordings used on this test were made using a "
Zoom H2
" digital recorder, positioned around 30 cm above each keyboard with the help of a support. A +14.0 dB gain was applied on each of the recording so that the graphs could be easier to understand.
Also, please don't mind that the interface on the software is in Brazilian Portuguese, this review was originally made in Brazilian Portuguese.
But before analyzing the audio, let's establish that:
MX Brown
=
GREEN
MX Blue
=
BLUE
Matias Quiet
=
RED
Keyboards used:
Razer Blackwidow Ultimate (2009 model, iOne) =
Cherry MX Blue
Das Keyboard Model S Professional (old Costar model) =
Cherry MX Brown
Matias Mini Quiet Pro =
Matias Quiet
Amplitude Analysis
First, let's compare first the
Cherry MX Brown
with the
Matias Quiet
switch:
On the graphs it's possible to analyze that the
Matias Quiet
is several times more quiet than the
MX Brown
switch, the main difference being noticed on how much noise the
spacebar
produces, which reaches some very high levels on
Cherry MX
keyboards, especially the ones with
Costar Stabilizers
. On
Matias Quiet
keyboards, the sound of the
spacebar
is far quieter, it's not even possible to recognize when people press it.
The same can be verified comparing the
Matias Quiet
switch with the
MX Blue
switch.
And as an extra, the comparison between
Cherry MX Blue
and
Cherry MX Brown
:
It's interesting to notice that the
spacebar
is the main cause for noise at
Cherry MX
keyboards and although the amplitude looks just about the same between
Cherry MX Brown
and
Cherry MX Blue
, what changes between them is the frequencies which are generated. Simplifying what I'll show you guys next, the
Cherry MX Blue
makes a "click" sound, the
Cherry MX Brown
makes a "clack" sound and the
Matias Quiet
makes a "tock" sound.
Frequency Analysis
Cherry MX Blue:
It's possible to verify that the high frequncies (above 7000 Hz) are very loud on Cherry MX Blue switches, especially due to their click mechanism. The low frequency sounds are normally caused by the impact of the key reaching its end and doesn't propagates nor is it irritating (for others) like the high frequency sounds caused by the
MX Blue
.
Cherry MX Brown:
The amplitude of low frequency signals on the
Cherry MX Brown
is almost identical to the
MX Blue
, although, the medium frequencies and especially the high frequencies are much lower, making the switch more silent (or at least acceptable to others) than
Cherry MX Blue
.
Matias Quiet
On the
Matias Quiet
switch it's very easy to see not only a decrease in the maximum amplitude (which decreases from -39 to -42 dBs), but also at the low frequencies, medium frequencies and
especially
high frequency signals. The sound of typing on the
Matias Quiet
is a muffled sound, a really quiet sound which has almost no high frequency signals and it's very comfortable to use in places where there are many people since it's actually even quieter than many membrane keyboards.
Typing and Gaming
The writer of this article, as owner of two keyboards with
Cherry MX Brown
switches and having a preference for this switch amongst the other popular
Cherry MX
switches, thought that the
Matias Quiet
was similar to
Cherry MX Brown
. And I was immensely mistaken. There's a huge difference between something that's
really
similar and two things that have only a few characteristics in common (ex: both the Ferrari Enzo and the Mazda MX-5 have 4 wheels and an engine).
The
Matias
switch has an activation right at the start of the key (and not at the middle like
Cherry MX
or at the end like
membrane
) and a
very, very, very
well defined tactile feedback. The
Cherry MX Brown's
"bump" isn't felt most of the times, reason why the key is a lot similar to
Cherry MX Red
, but on the
Matias Quiet
switch it's impossible not to feel the tactile bump. Hell, the tactile feedback can be even felt on the
upstroke
(the process of removing your finger from a key you pressed and it returning to its original state).
After pressing the key and going through the tactile bump, the resistance which existed earlier disappears, the only remaining resistance comes from the switch's spring, which isn't much and didn't make my fingers hurt after long sessions of FPS games, something that happens when I play using keyboards with
Cherry MX Black
. I played
Far Cry 3 Blood Dragon
right on the first day that the keyboard arrived and I really enjoyed how it felt, besides being also awesome to type on.
But, I can understand that the
Matias Quiet
switch may not be for all. Those who have a preference for the
Cherry MX Red
switch may not enjoy the
Matias Quiet
switch due to its strong tactile feedback. But for those that already use switches such as
MX Black, MX Blue
and
MX Brown
, I really recommend you to try this switch.
External Build
Opening this keyboard was extremely easy, there's only two screws in total, the rest is held on by plastic locks. And fortunately, these aren't cheap plastic locks as the ones you will find on
Das Keyboard
and
Logitech G710+
keyboards and thus didn't broke (almost all plastic locks of my
Das Keyboard
are broken). They're actually quite similar to the plastic locks used by the CM Storm Trigger and the
Matias Mini Quiet Pro
was purposely made this way so that modifications and maintenance would become an easy task.
Matias keyboards are made using
Polycarbonate Plastic
, a stronger plastic compared to the common
ABS
used on most mechanical keyboards (and also costs more). It's the same material used on American Football helmets and helmets used by Motorcyclists.
Anyways, if someone asked me which keyboard looks more resistant between a
Corsair Vengeance K70
and a
Matias Quiet Pro
, although it would be a surprise for many, I will say that the
Matias
is more resistant.
Although, most of you should have already noticed my fingerprints all over the keyboard. Yes, it has a
glossy
finish, both inside and outside since it's a characteristic of the plastic itself (there isn't any painting on it whatsoever). This, is the detail I disliked the most on it, but the reason for that, according to Edgar Matias, is that the keyboard wouldn't sell well if the
Mac
version used a white matte finish and both versions need to have the same kind of finish.
But a good thing to know, is that
Matias
plans on releasing PC Models using a black matte finish, similar to the one on this image:
Credits for the picture goes to Aaron Frost, "furosuto81" from Geekhack (http://geekhack.org/index.php?topic=499 ... sg1088247)
Another detail shown by the back picture of the keyboard, is that it has a very small amount of rubber to keep it in place, thus it's not difficult to end up moving it around the table (and the glossy finish helps that happen). The height adjustment feet also have no rubber.
Cables and Connectors
I'm not one to comment much about cables and talk wonders about nylon-coated cables nor about gold-plated USB connectors (most of which are just marketing bullshit that companies make up, it doesn't matters if the external shielding is made out of gold, silver, steel or brass, the only thing that matters is the internal connectors that touch each other when you plug it into a USB slot).
But it's undeniable that there was an extreme care from
Matias
so that the keyboard could be portable and wouldn't break due to an extremely fragile connector or cable, as on what happens with keyboards such as Rosewill RK 9000, CM Storm Trigger, CM Quick Fire Rapid and many others which use the mini-USB connector.
The first and most important decision that
Matias
took was NOT to use the
mini-USB
standard, but the
micro-USB
plug:
Some could even think, "Doesn't this makes it harder to find a replacement cable?". Yes, a little bit, but the
micro-USB
connector is used by many cellphones and for a good reason: It is
far more
stronger and durable than the
mini-USB
and thus lasts longer without breaking.
Unfortunately on the mechanical keyboard field it's not rare to see keyboards where the
mini-USB
plug broke, reason why it's considered as being a strong point (since it makes the keyboard more portable) as well as a weak point (since it can easily break). But the same doesn't happens with the
micro-USB
, which is quite sturdy and won't break easily.
The second decision, was instead of including a single cable with the keyboard,
Matias
includes two cables, one with 3.28 Feet (1 meter) and the other one with 6.56 Feet (2 meters).
And why would they do that? Backup cable? No. That wasn't the reason for it.
The reason why
Matias
includes two cables is because they know the keyboard will be used in several places and a 6.56 Feet (2 meters) cable could be a hassle if someone is trying to use the keyboard on a Laptop. Besides that,
Matias
also used a special connector on the 3.28 Feet (1 meter) cable:
Yes, this is a USB 2.0 cable that
works on both sides
, there's no "wrong side", just like also happens on the recently released USB 3.1 standard.
"But then, if it was already possible to make USB 2.0 plugs like that, then why no one else does?" The answer is simple:
US$ 0.54
. More specifically, a common USB plug with only a single side costs
US$ 0.06
, while the double-sided USB plug costs
US$ 0.60
. As long as this difference in cost exists, you can be sure that no one will use this kind of USB plug and
Matias
was the first company I've ever seen using one.
Another excelent idea was to make the cable's plug in a "L" shape:
And this kind of shape brings two advantages compared to the straight cables:
- It lowers the risk of the USB plug breaking.
- It makes it possible for the user to easily organize the cable in case your keyboard is close to your monitor.
Although those who have their computers on their
right side
may end up having some complications since the 6.56 Feet (2 Meters) cable may not be enough to reach the computer.
Internal Build
By opening up the keyboard and removing its plastic covers, it's possible to see its steel plate, the keyboard's controller at the top (which is removable), the PCB and its USB HUBS at the top.
A picture of the top cover without the keyboard's controller.
The keyboard's PCB. Here it's possible to see that the PCB has a very simple design, there's signs showing the switches, its circuits are easy to understand, there's not much cleaning residue on it and there are writings at the top (with black marker) showing that the keyboard went through a QC test before being assembled and sold.
Following, a close-up picture of the PCB, showing a little bit of the cleaning residue (do not worry about it, these white stains are harmless) and also the keyboard's soldering, on which there's no excess nor lack and it also has a
shiny aspect
, which is a characteristic of well applied soldering.
And to wrap it all up, the keyboard's controller, which is removable to allow repairs in case something happens (simply replacing it could solve problems in case they happened).
Keycaps
First of all, for those who don't know,
keycaps
are that plastic piece with something written on top of it, also called by most as "keys", although the term "keys" isn't very specific, as it may apply to the mechanism underneath the keycaps as well.
Evaluating the quality of the
keycaps
consists on two things: Its
material
and its
lettering
(or painting).
First, its material, its surface, if the keycap feels confortable to touch or not, the plastic quality and knowing whether or not it will break only because you tried to remove the keycap, as on what happened with the first keycap on this picture:
On the picture above, the keycaps and keyboards are:
- Logitech G710+ (
Solid Year
)
- Thermaltake eSports Meka G-Unit (
i-Rocks
)
- Metadot Das Keybord Model S Professional (
Costar, keycaps from a Taiwanese supplier
)
- Corsair K70 (
Solid Year
)
- CM Storm Trigger (
Costar, keycaps from a Taiwanese supplier
)
All of which are ABS plastic keycaps, but there are several quality levels even when it comes to ABS.
Second, its
lettering
, how the lettering is printed into the key, what kind of materials and methods are used (ex: UV Coating) and if the key wears off over time and how fast that happens. I believe no one wants to buy an expensive keyboard so that the keys wear off like these: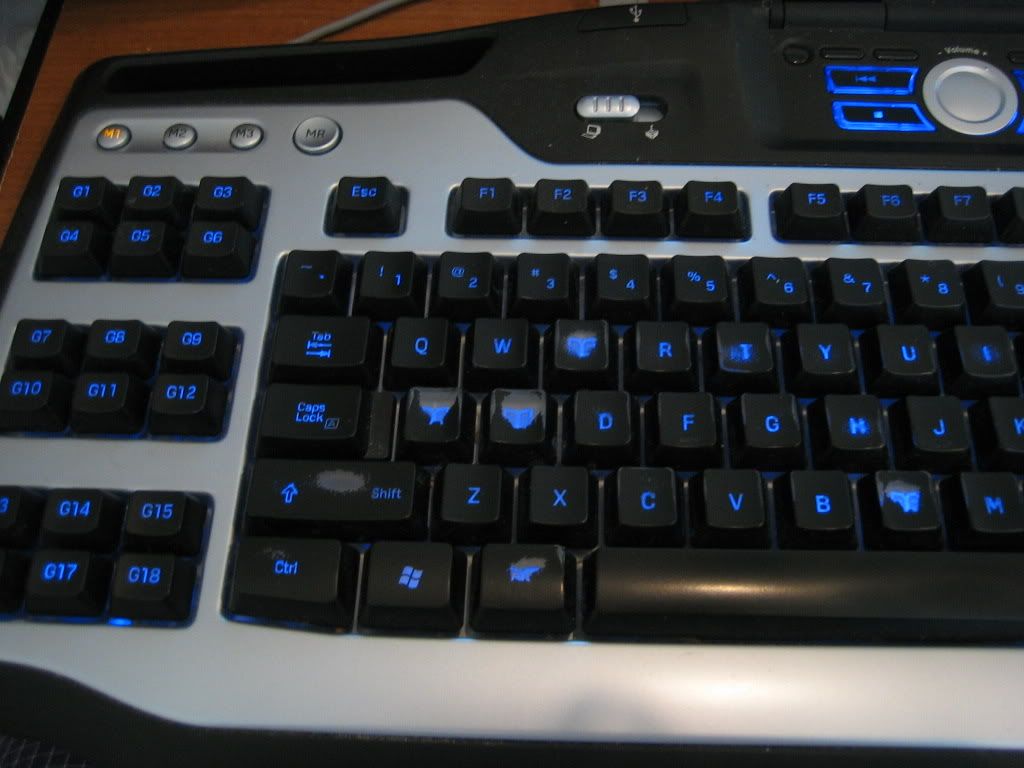 Many of the keyboards on the pictures above are very expensive. But that's not a reason to demotivate people from buying nice keyboards (which may or not be expensive) but it's a reason for them to seek more details regarding the keyboard to see if its lettering is good or not.
And in the case of the Matias Mini Quiet Keyboard, the keycaps are excellent.
The keycaps come from the same Taiwanese supplier as used on
FILCO
,
Ducky Shine II, II
,
Das Keyboard
(old models),
CM Storm Quick Fire Rapid, Stealth, XT
and
Trigger
. Besides Edgar Matias admitting that himself, another proof is the plastic used and the molding mark on the rear of the keycap.
Anyways, although they may come from the same supplier that doesn't exactly means they're exactly the same (it just means they use the same plastic).
FILCO
keycaps for an example use an UV-Coating over the keys to prevent wearing over time, but that UV-Coating itself may wear over time, making it look like the keycap is actually made of low-quality material, which isn't really true.
The keycaps used on the
Matias Mini Quiet Pro
are high quality laser etched ABS keycaps (with no UV coating) and the lettering looks really nice, although only time can show if the lettering is really resistant or not.
Layout and Additional Features
One of the first things you readers must have noticed when you opened this topic, is the "weird" layout of the
Matias Mini Quiet Pro
:
The keyboard has a layout called "75%", which represents its size in percentage compared to a
full-sized
keyboard (with number pad, this would be the "100%" and it's the most common kind of keyboard in the market). The
MMQP
has a layout a bit smaller than TKL (tenkeyless, without numberpad) keyboards through the removal of a few keys and others that were moved.
It may seem strange to many, but compact keyboards such as the
Matias Mini Quiet Pro
,
CM Quick Fire Rapid/Stealth
,
Noppoo Choc Mini
,
KBT Race
,
Razer Blackwidow Tournament
and many others are better to use because they decrease the distance between the keyboard and the mouse, making it easier to move your hands between these and making it more comfortable to use. Also, it leaves more space available on your desk.
But, the
Matias Mini Quiet Pro
has some details that most of the other mechanical keyboards don't, such as having "Page Up" and "Page Down" instead of "Delete" and "Insert" and the key "Delete" is at the top right of the keyboard, similar to how it is on some laptops.
Another detail, is that the arrow keys aren't in the same place as on others and some keys are only accessible by using the FN key, which is located above the right arrow key. Does this layout makes the keyboard bad? No, that's what makes it so great.
Although on the first weeks I made a few mistakes, the layout of the
MMQP
makes a lot of sense, since after all, while the
Page Up
and
Page Down
aren't exactly at the same place as on others, they're still on the same area, while the
Delete
key is on the same place as it is on many laptop keyboards which most of us are used to. Same goes for the arrow keys, which are also similar to the layout of laptops.
I confess, I pressed by mistake the FN key a few times on the first week, but it was easy to adapt to how its layout is after using it for some time.
FN Key Layer
One thing is unfortunately true: There's no lack of bad usage of the FN key on keyboards sold in the market, there were plenty of
retarded
ideas as on where to place the FN key, up to the point of making people
hate
such key. And there's no lack of such examples:
The most common thing, is to
obligate
the user to use both hands in a movement that's not really confortable to press the FN key (located either at the left side or right side of the spacebar) and then press a key located on the function row (F1, F2, F3, F4...) to execute a multimedia function, control the backlight or open up a certain software (ex: calculator).
But lets be honest, are we happy with that? Do we want to remove both our hands, including the one you're holding the mouse with, just to press two keys to lower or increase the volume? No, and that's one of the reasons why so many people want a keyboard with specific keys for multimedia and/or features such as
volume knobs
or
volume scrolls
that can regulate the volume on the keyboard.
And let's also analyze one thing, as example we'll use the
CM Quick Fire Rapid
with a FN key at the right side of the spacebar and a FN Layer on the function keys.
Tell me, does it makes sense to press the FN key and F5 to pause a song? F6 to stop it? F7 and F8 to skip or go back a song? F10 to mute the sound and F11/F12 to decrease or increase the volume? No, it doesn't makes much sense and that's the reason why you need to look at the keyboard to use the FN key. Besides, you must remove your left hand from the left side of the keyboard and use it to press the function keys while your right hand holds the FN key. And that's just a hassle, no one wants to do that.
One of the few
good design rules
that I learned and companies such as
Apple
follow strictly is that "
A good design explains itself
". A good design must make sense and the user must be able to understand how to proceed without consulting a manual or making some sort of mumbo-jumbo so that it can work.
But now, let's go back to the
Matias Mini Quiet Pro
Let's think this way: Does it makes sense to use your right index finger to press the
Up
and
Down
arrow keys to decrease the volume while your right middle finger hold the FN key? You barely need to remove your hand from the mouse and you can already press them, it's extremely easy and fast to get used to.
Does it makes sense to press the FN key and
ESC
key to pause a song? Does it makes sense to press the FN Key and
Page Up
or
Page Down
keys to get the
Home
and
End
keys?
Although it may look weird at first glance, the FN system and layer used on the
MMQP
is far easier to press and to understand than in other keyboards,
its combinations make sense
, reason why on the second week of use I was already used to the FN layer and using the FN key far more than I ever did with any of my other keyboards, without even having to look at the keyboard to do that. Honestly, this was a fantastic and well planned idea, better than any other keyboard with FN layer I've used.
Except for three errors:
- There's a key that's used
very
often by
gamers
: The
Print-Screen
key. As you can see on the pictures of the keyboard, the
Print-Screen
key is located at the
F9
key, which makes it difficult to press using only the right hand, while the other FN layer keys are far easier to press using only your right hand.
To press the Print-Screen key you'll either need both hands or stretching your right hand a lot to reach the FN and F9 key at the same time. And if you want to get a Print-Screen of only the currently active window (which on other keyboards would be ALT + Print-Screen), you're basically screwed.
- As much as the FN key can be useful, it may end up being a problem on games if you don't know how it works on the
MMQP
. Why? Because when you press the FN key,
any other key which was already pressed will be canceled
(ex: W or A) and you'll need to press it again to activate it once again.
The result? Well, I hit a few trees while playing Far Cry 3 on the first days I got the keyboard, because I was trying lower/increase the volume while driving and as a result it kept blocking the other keys. In other
gaming
keyboards with FN keys such problem doesn't happens and it probably won't happen on future
Matias
keyboards since I reported this problem to them.
- Due to a project mistake, the "
Menu
" key just doesn't exists on the
MMQP
and it's not accessible even through FN layer. It's an error that
Matias
admits to exist. I know that many just don't use this key because the right mouse click does just about the same and it's faster in most cases, but it's really a key that doesn't exists here.
As a "fix" for those who do use it,
Matias
recommends to use the
Autohotkey
software and replace the
right windows key
for the
menu key
. It's a small mistake most won't notice, but it's still a mistake nonetheless.
USB HUB
Unfortunately many keyboards, mechanical or not, misplace USB HUBs, which end up being:
- Hard to use (you need to turn the keyboard around to know where to put the USB plug - USBs at the rear side):
- Being a hassle for your mouse (unless you're left handed - USB HUB at the right side of the keyboard):
Matias
in the other hand, had an excellent idea to solve this problem: they placed the USB HUBs into "cavities" that allow the USB HUBs to be well positioned and used without being a bother to anyone, be it left handed or right handed people.
These "cavities" that exist on the USB HUBs allow that USB Sticks, mice, wireless receivers, cellphone cables and other USB devices may be connected without being a bother to the mouse and being far easier to connect than USB HUBs at the rear part of the keyboard, although the
MMQP
also has an extra USB slot at its rear.
Conclusion
The
Matias Mini Quiet Pro
is a keyboard on which after analyzing it completely, all I could see was how hard
Matias
and its team worked on this keyboard and all of its aspects, be it its switch, the external and internal build, its layout, the FN key system and its keycaps. There are only a few weak points on this keyboard and its strong points outnumber them in both quantity and value. It's really a keyboard on which I felt happy by doing a full analysis and learning how hard people worked on it so that it could become what it currently is: one of the best mechanical keyboards in the market.
Thus, analyzing the review, we have as weak and strong points:
Strong Points:
- It promises to be the most silent Mechanical Keyboard in the market and it really is.
- Excellent tactile feedback for those who enjoy it.
- External build is very well done using Polycarbonate Plastic (used on helmets).
- Internal build is excellent, very well done soldering, circuits are easy to understand and its components can be replaced.
- The Micro-USB cables are very well done and far more reliable than Mini-USB cables, the short cable has a USB plug that works on both sides and they use a "L" shaped connector that won't break easily.
- The FN Layer key system was very well done.
- Compact layout, which makes the keyboard more comfortable to use, portable and uses far less space on your desk.
- High quality Laser Etched ABS keycaps (Taiwanese Supplier).
Weak Points:
- The FN Key cancels the actions that other keys could be doing (ex: if you press the FN key while holding "A", it'll cancel "A" and you'll need to press it again).
- Print-Screen key is in a hard to reach place.
- There's no "Menu" key.
- Glossy finish.
To arrive at the
Matias Mini Quiet Pro
score, I hard to reconsider the
glossy
"weak point", since there's a difference between something that's a defect, problem or just lack of quality, all of which I use to decrease the score of a keyboard. Since the
glossy finish is a design choice
and I never scored any keyboard for how "good looking" they are (Logitech G710+ was a very good looking keyboard, but that didn't kept me from giving it a 7/10 due to how bad its keycaps are), I won't decrease any points due to the
glossy finish
, thus the final score is:
Score: 9.5 out of 10
And for those who got interested in the
Matias Mini Quiet Pro
, or maybe didn't, it's interesting to know that on
CES 2014
(January 2014),
Matias
will release the
wireless
PC version of this keyboard, having a refresh rate of 200 Mhz (enough for those who aren't hardcore gamers), inbuilt rechargeable 1600 mAh battery which can last months and just about the same quality as seen on the wired version.