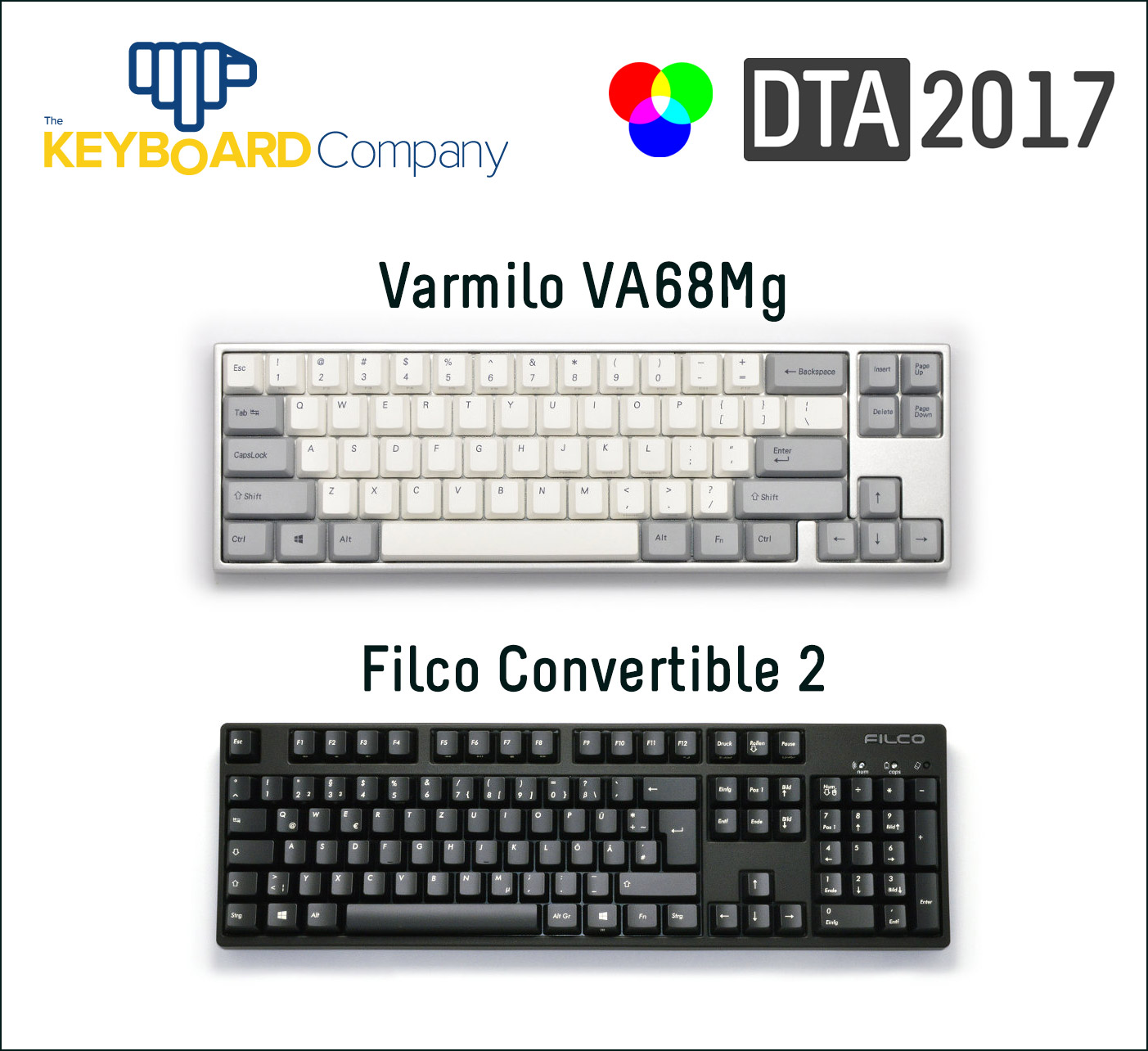 Sponsor details:
The Keyboard Company has sponsored every edition of the DTAs. That speaks volumes about their commitment to the community. This year they've given us two great keyboards to throw into the mix.
Varmilo USA VA68Mg PBT RGB Backlit Magnesium Alloy Tactile Keyboard
• The VA68 models are a compact, 60% size that is popular and practical, they have a full metal chassis - that's the top case, bottom case, base plate and even the adjustable legs are metal. This keyboard's case is machined from high grade Magnesium Alloy, and it's base/positioning plate is Aluminium with a Anodized Silver finish. On the base are 4 sturdy rubber feet and the metal legs have large rubber pads to keep your keyboard from moving. The keyboard's 32bit controller chip offers low power use, fast operation and flash upgrading.
German Filco Convertible 2 Tactile Action Keyboard
• The Convertible 2 keyboard from master keyboard makers - Filco. This keyboard is 'convertible' from a USB wired keyboard to a Bluetooth wireless keyboard, and you don't even need to unplug it from your PC. It combines the high quality typing feel of Cherry MX switches, steel mounted in a rock solid body all put together in a very slick package. These keyboards just make you want to type, now on all of your devices.
Vote in the final round of the Deskthority Award or Best "other" input device category (Dec. 1 - 6) for a chance at winning one of these prizes!
These prizes were kindly provided by The Keyboard Company.
This is a worldwide sweepstakes. To be eligible, you must have a minimum of 10 posts on this site before the vote closes on Wednesday 6 December 19:00 UTC. Two random winners will be selected and announced soon afterwards. We request that winners review the product(s) that they receive. It isn't mandatory, but it helps the sponsors and the forum. Good luck!