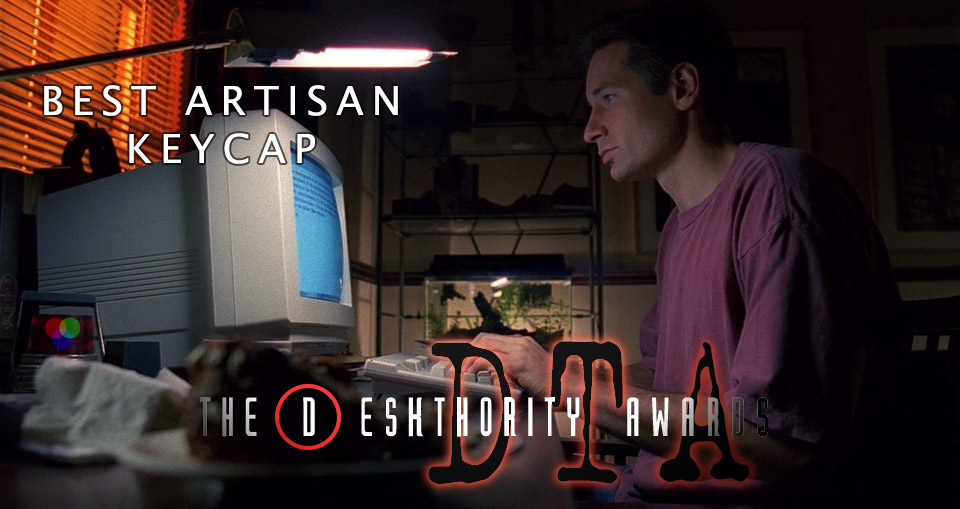 Sponsored by:

Vote in the final round of this category to win a
New 75 and a ViBE keyboard from Vortex
!
Round 2 rules:
Please vote for nominees for the best artisan keycap, novelty keycaps or artisan in 2017.
You can cast a maximum of five votes.
This round is used to trim down the suggested nominees from
round 1
- the five entries with the most votes will be promoted to official nominees and make it into the third and final round.
Suggested nominees:
Grimey As Fvck for Artisan of the year, their sculpts are mindblowing and capture the complexity of artisan keycap making and the essence of grime in an artistically pleasing way

Nightcaps from eat_the_food's Poisoned Summer sale

brocaps for "best artisan" because of all of the amazing colorways and new stuff he has brought out this year. The Christmas sale, valentines sale, 420 blind nug run, 4th of july, Halloween sale and whatever others I may have missed, all had some of the nicest colorways Ive seen and the "thurrg" from his last sale is an awesome new sculpt. He also reworked the gamer sets to a nice new design and is dropping full resin topre sets with those new gamer sets which is what I am most hyped for.

Zorb, I just love the Sparkey

HWS - Binge for best artisan for his hard work in 4x4. hope this control the aftermarket price.

Sneaky Potato over at Keyforge. Sneaky certainly isn't new to the artisan community with quite a few successful sculpts last year, but he really stepped up his attention to detail and colorway complexity with his Shishi and Orichi sculpts this year, placing his cap quality on par with the most desirable artisans currently available.

Jelly Key - For creating very impressive and unique little pieces of art.

Also, I'd like to nominate Maos Keys/Maos Store on AliExpress for actually selling

artisan keycaps at a more reasonable price-point (~$5-7 shipped)

The Orochi (by Keyforge). I'm not naming it for my clear love for this sculpt but because it is extremely detailed and well made. I also appreciate the effort to make an artisan. Also i got into Artisans when i saw the Orochi on reddit
The second round ends on Friday 1 December, 19:00 UTC. You can change your vote until the end of the round.
The full results will be published at the end of the awards.