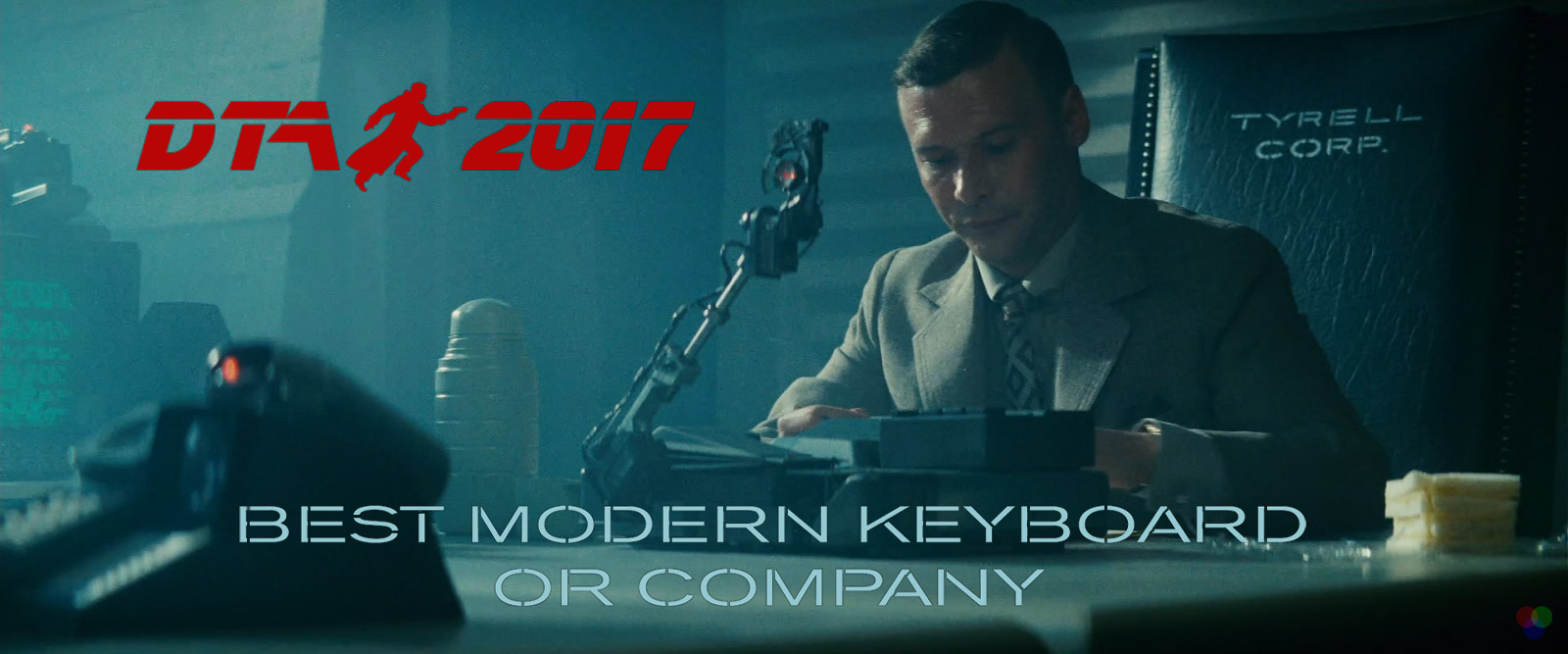 Sponsored by:

Vote in the final round of this category to win a
MasterKeys S, a Knop Mini, and a MasterMouse from Cooler Master
!
Round 2 rules:
Please vote for nominees for the best modern keyboard or company in 2017.
You can cast a maximum of five votes.
This round is used to trim down the suggested nominees from
round 1
- the five entries with the most votes will be promoted to official nominees and make it into the third and final round.
Suggested nominees:
kailh, for genuinely trying to innovate and improve upon the legendary cherry design with the click bar and box switch
TX Keyboards, everything Kin produced in the last year (TX-CP, TX-1800 v2, Upcoming TX60 und TX65) is just plain awesome
Leopold, doubleshot PBT keycaps finally, cherry profile too for the extra awesomeness on top
GMK for steadily branching out towards the keyboard community and improving on their offering of keyboards and keyboard related products in a high quality market segment
Novelkeys - with their heavies and their Big switches, they're reminding keyboard enthusiasts that this hobby can be fun
Cooler Master for really acknowledging the community, the fact that they changed the bottom row for us is great, and all the keyboards I had from them were great
The Key.Company for successful and incredibly smooth group-buys (most notable being GMK Terminal_). They continue to lead in the MK community with newer projects, such as GMK LedZep and TKC1800.
Tai hao for making cheap popular Doubleshot sets that get people into the hobby
Plum keyboards, because they are making affordable Electrastatic Capacitive switches (like those in topre) that are MX compatible and because mech greenhand is getting input from the community and answering questions in a public space. I think other manufactures can learn from that
Keyboard.io for running a very transparent crowdfunding campaign and shipping their beautiful and innovative ergonomic keyboard (Model 01)
MaxKey, giving option for SA other than SP
I'd like to nominate shapeways for their ingenuous approach to artisan keycaps
Cherry: for innovating with the Cherry MX silent range of switches, engaging with the community with their "developer" kits and attending Mechanicon, and their work re-tooling their switches.
Talking about Vortex, they did very good things this year, they made new liked layouts (e.g. VIBE, RAC3) with some nice new Keycaps (DSA, SA) so they look at our communities! I just think they should also try to interact more with the communities, for example the 1.5 esc key on the Rac3 wasn't a good idea. Afterall i'm happy with what they did this year.
KBD75. There are many good and super expensive keyboards with a dope design (e.g. The Time TKL), but i want to give my vote to the KBD75, that in the last year went super-popular making KBDFans popular as well.
I'm voting this because it was one of the first keyboard that was good and at the same time affordable! It went popular for this.
KBDFans. This was surely the year of KBDFans in our community, he went popular becuase he provided good things for a cheap price. They fucked up something like everyone, but they were nice enough to fix what they fucked up. Clear example might be the KBD75 that might have sold 700-1000 units at this point (probably even more) or the simple KBDFans 60% alu case that sold 500+ units (wtf)
The second round ends on Friday 1 December, 19:00 UTC. You can change your vote until the end of the round.
The full results will be published at the end of the awards.