I posted about this elsewhere but I suspect most probably have the USB version of this board rather than the PS/2 one, so I didn't get much of a response. I'm wondering if perhaps I might have slightly better luck here. I'm looking for PS/2 Unicomp Model M owners to try something and report back in this thread, for Science! (This is also my first post around here. Hi! Incidentally, if you happen to have any old IBM and/or Alps boards that would be considered "fixer uppers", let me know; I'm on the hunt for some projects.)
The gist is basically that my New Model M (manufactured less than a month ago) fails to perform a Break with the Pause/Break key. It appears that it is neglecting to treat the Ctrl modifier correctly: instead of switching from the Pause scancode sequence to the Break one when Ctrl is held, it just performs a modified version of Pause (which isn't really a thing) which does nothing other than releasing a Pause if one is held at the time, which you could do by hitting just about any other key, I think (e.g. Enter, or Space, or whatever). Pause works just fine, but Break doesn't work at all. This can of course be worked around by just using Ctrl + Scroll Lock instead, which is the legacy (PC/XT/AT) way of performing a Break. However, it nonetheless slightly bruises my plums to have a "Model M" that doesn't have a working Pause/Break key, considering the Pause/Break key was – unless I am mistaken – a Model M invention in the first place.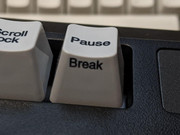 Liar!
I already mentioned it to Unicomp but they are apparently understaffed at the moment so it's taking them over a week to respond from one message to another (there are other issues I have with my New Model M as well, to be fair, so there are a number of things they're working to address). In the meantime, I'm curious to try to identify roughly when the problem seems to have begun. They told me that their PS/2 controller code had been locked down for years, and claimed that they had never heard of this being an issue before, but I'm definitely not crazy here because I've tested multiple other boards and they all work just fine on the exact same system, port, and OS (Pause/Break performs Pause and Ctrl + Pause/Break performs Break). But yeah, to quote Unicomp:
Unicomp wrote:The PS2 code hasn't been touched for a long time, and I have never heard this complaint before.
(...)
Unicomp wrote:A replacement board would be the only way to fix it, but I'm not sure the engineers would be willing to break the freeze on that code to update something for which there is already a workaround.
(This isn't necessarily true, as it would be very easy for me to just switch out the controller PCB if they wrote a new one of those and shipped that... which would be significantly cheaper because I'm in Scotland, nowhere near Kentucky.)
Anyway, here's how it goes...
PAUSE:
BREAK (normally):
... buuuut my New Model M does this instead...
BREAK on New Model M:
When I asked this elsewhere, the one reply I got verified that a 2013 Unicomp Classic did perform a Break from the Pause/Break key correctly, although I don't (yet) know if that was an ANSI or ISO board.
If you have a post-2013 PS/2 keyboard from Unicomp that has a Pause/Break key, could you please do me a favour and see what happens if you hit Ctrl + Pause/Break?
Doesn't massively matter how you verify this, as long as you can verify it: you could look at the results in AutoHotkey or something else that can look at scancodes, or you could just run some command or another that you can stop with a Break in order to verify whether it actually does stop or just Pause instead.
I'm wondering if part of it might be to do with mine being a UK ISO board, which may be treated as something of an afterthought next to ANSI. It could be that it's borked on every board they've sold with PS/2 for years, though, and just never noticed because it's a really specific thing. I'm guessing that it's a really small subset of their customers who will use Pause/Break routinely, and of those, some probably have USB boards instead of PS/2 ones (and for all I know, their USB controller might be fine).