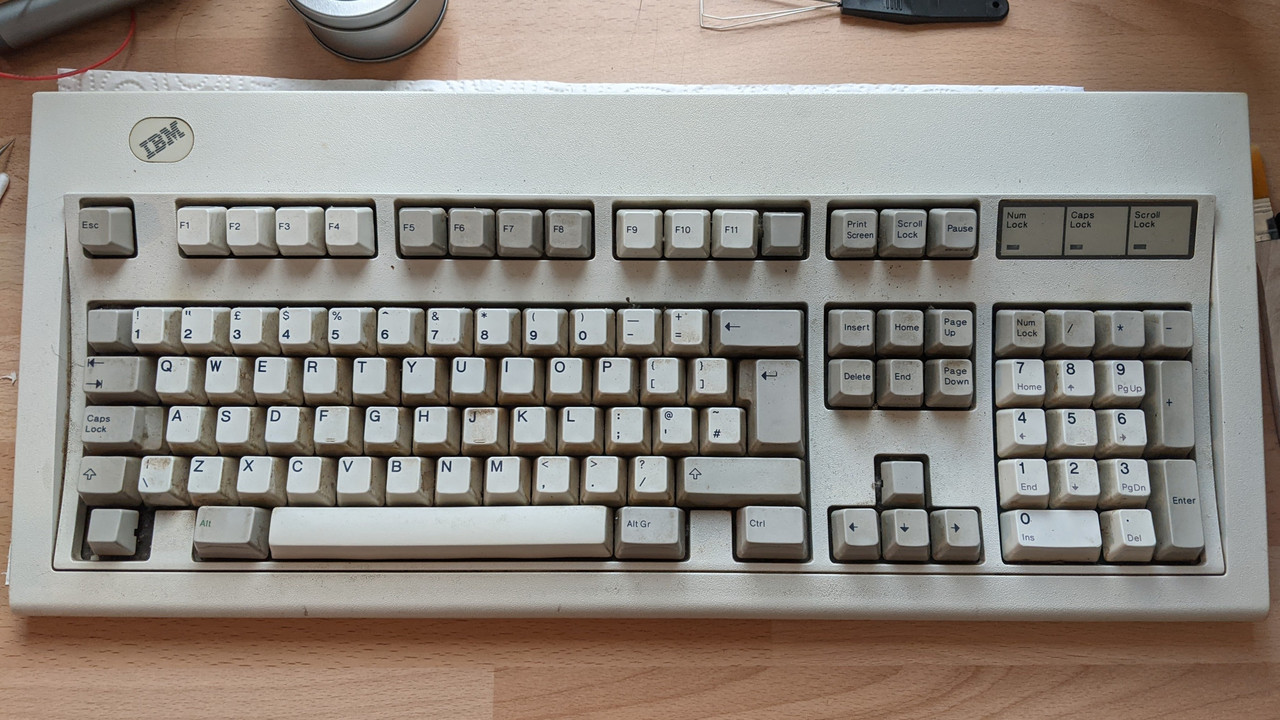 That better not be a pube.
THE PROBLEM
I grabbed a 1990 Model M recently which has some pretty bad issues with a lot of keys:
Some of them actuate prematurely, such that the key registers just before the spring fully buckles, which sometimes causes double keypresses (or, worse, "stuck" keypresses that keep repeating even after the key has physically reset)
Some don't buckle properly, but changing the keycap stem makes them work fine (stops working again when I put the original stem back on)
Some don't buckle properly, or rather they do buckle but feel soft and mushy as hell
The right Shift key also had the worst binding I've ever seen, it just stayed down every time you pressed it
TROUBLESHOOTING
I started by giving it a thorough but careful clean without pulling the assembly apart, because it had almost every rivet intact, surprisingly enough. I was hoping I'd be able to save it without wrecking that, but it seems not.
I managed to more or less sort the right Shift with a combination of thoroughly cleaning the stabiliser and very carefully putting pressure on the key's "leg" to reposition it by a fraction of a millimetre, which seems to have done the trick.
The keys that weren't buckling unless I swapped out their keycap stems seemed to have slightly screwed up spring-holder "nubs" inside them, so I guess they weren't holding the top of the spring in the right position. No biggie, but weird, 'cause presumably they were always like that and it's a manufacturing screw-up, which surprises me!
As for the keys that were actuating early and double-pressing / getting stuck, It doesn't seem like any amount of fiddling with springs and so on is helping, but there was clearly still dirt that I couldn't clean off very easily so I began to wonder if maybe there could be corrosion somewhere internally that I couldn't see/fix without pulling the assembly apart. So, with much sadness, I clipped all the plastic rivets off (some dropped off basically the moment I touched them, so it seems they were about ready to fall off anyway, at least) and pulled the assembly apart.
I'm almost annoyed to discover that there is no corrosion or any other kind of damage/dirt whatsoever that I can see on the membrane within the assembly, but at least that's ruled out. The rubber mat that the flippers push into did have quite a lot of muck on it though, so I suppose it might simply have been that dirt was stuck underneath some of the flippers and that was causing the premature actuation on some keys, I don't know.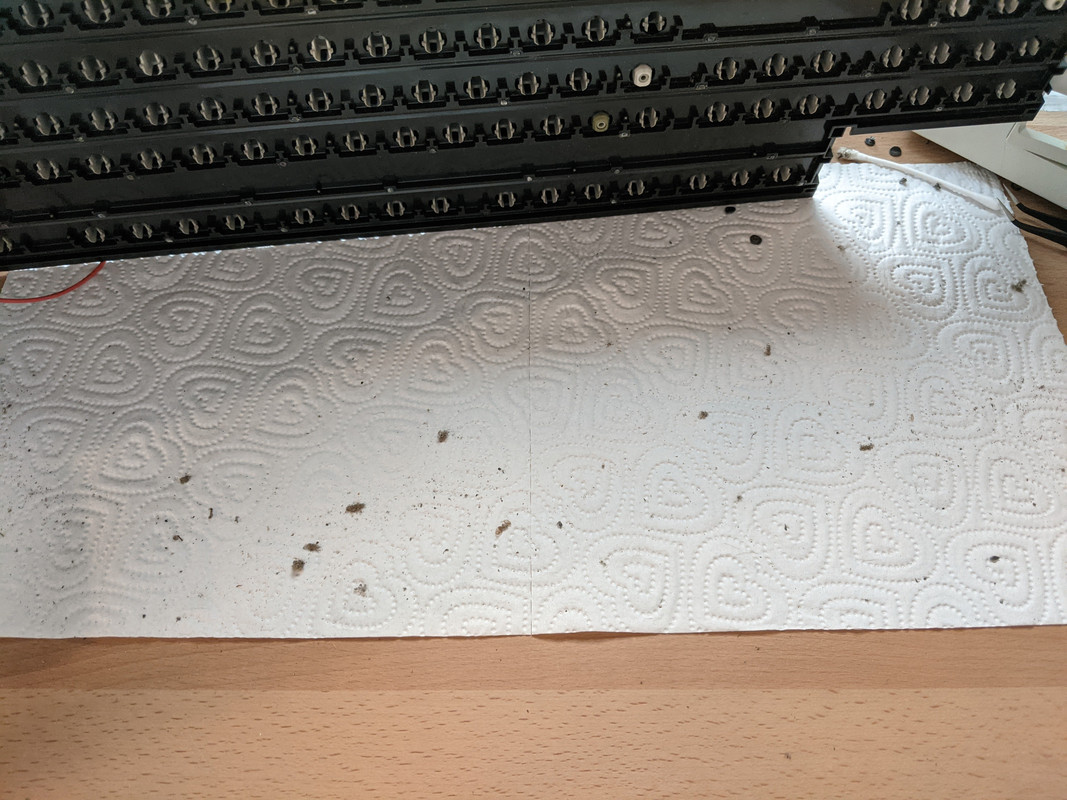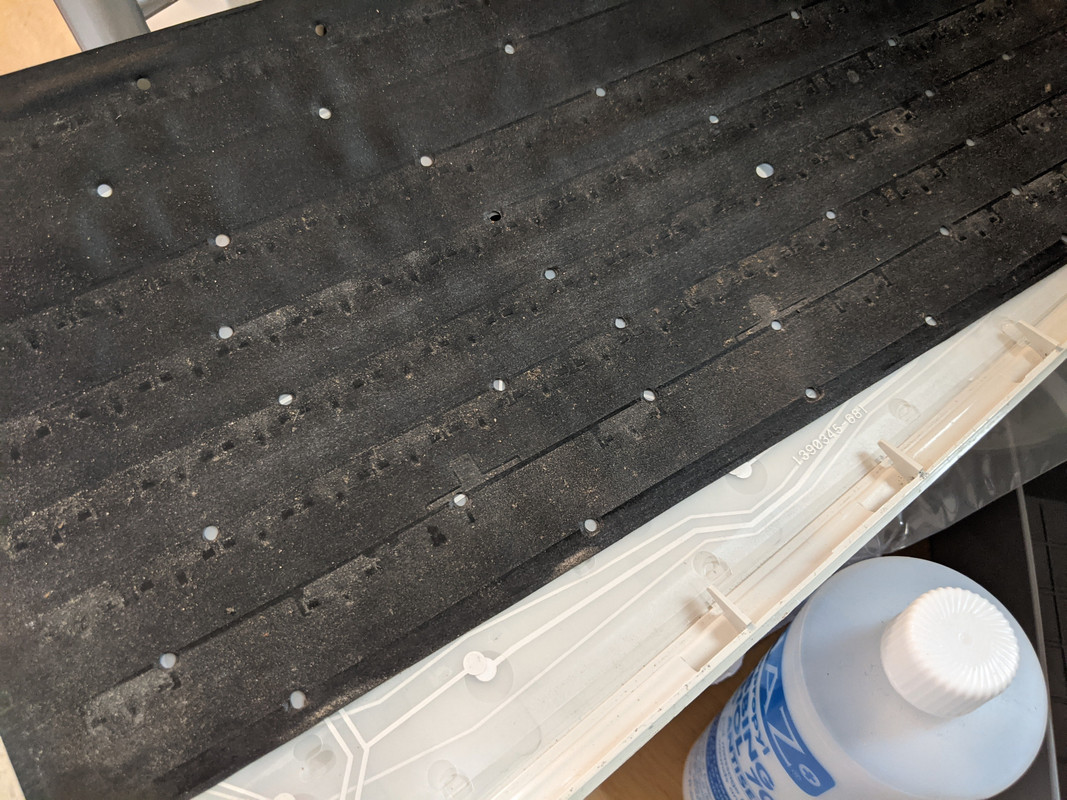 I also notice that several springs were rotated slightly wrong, such that the end of the coil was to the side instead of the top of the switch assembly (as almost all of them were) which I suppose might be part of it as well...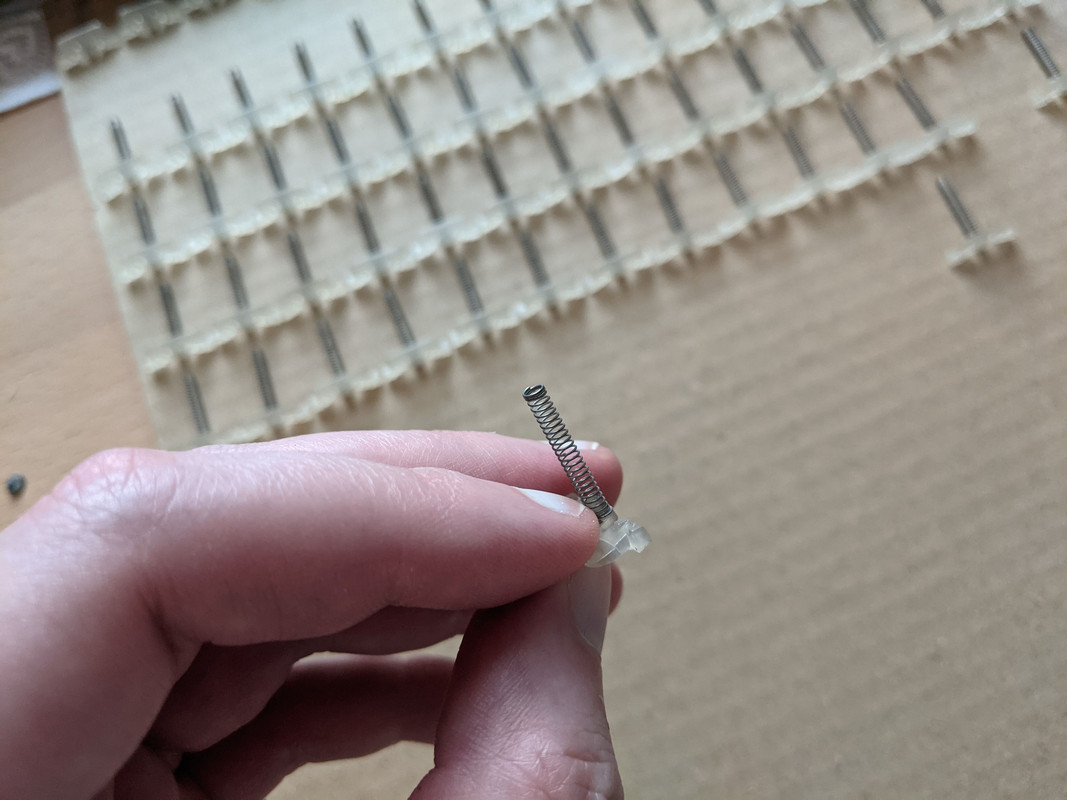 There is quite a lot of corrosion on the part of the membrane that was
outside
of the main assembly (the tabs that go into the controller PCB), but I don't know if that would necessarily explain the behaviour I was seeing: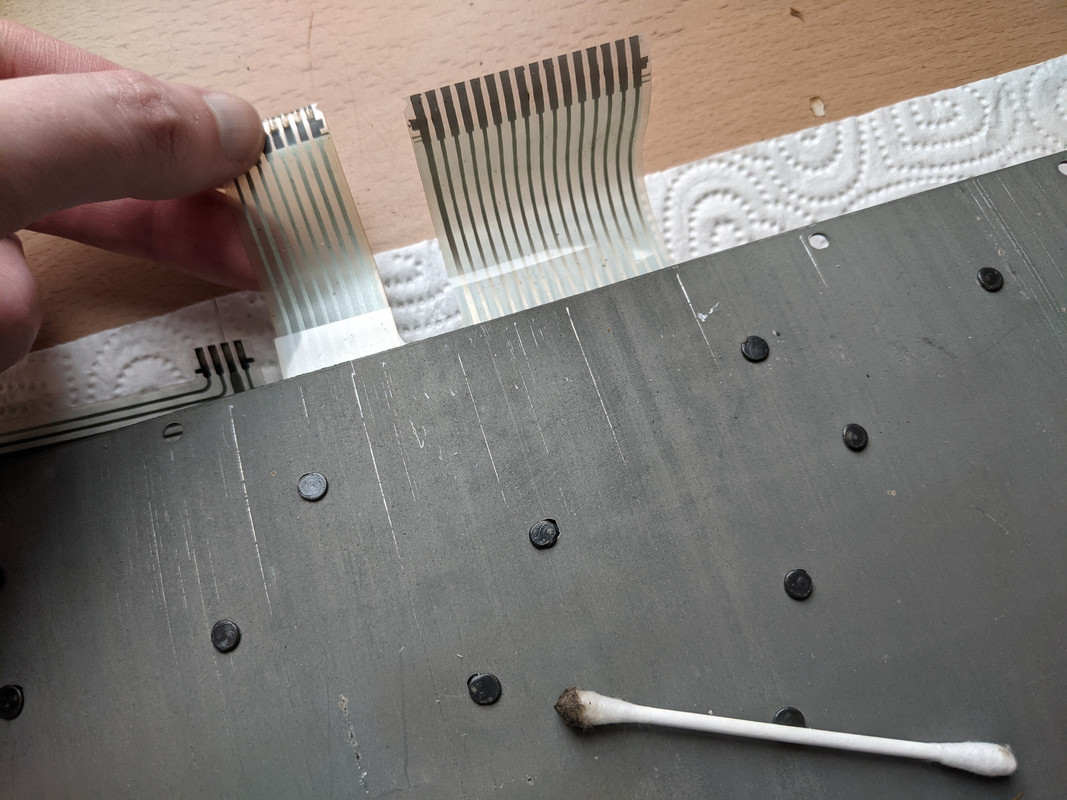 I suppose in theory it could be that the keys with the intermittent stuck actuation issue might all be correlated in the matrix, in which case it could be that the trace they use on the membrane tab is the same one and has been affected by the corrosion. If necessary, I might replace the membrane entirely, but I'm going to do my best to clean off the corrosion first (as it stands, I've run out of cotton buds, hahah).
If nothing else, this at least let me clean everything much more thoroughly (I actually blasted the barrel plate under the shower head, it was so filthy). So there's that.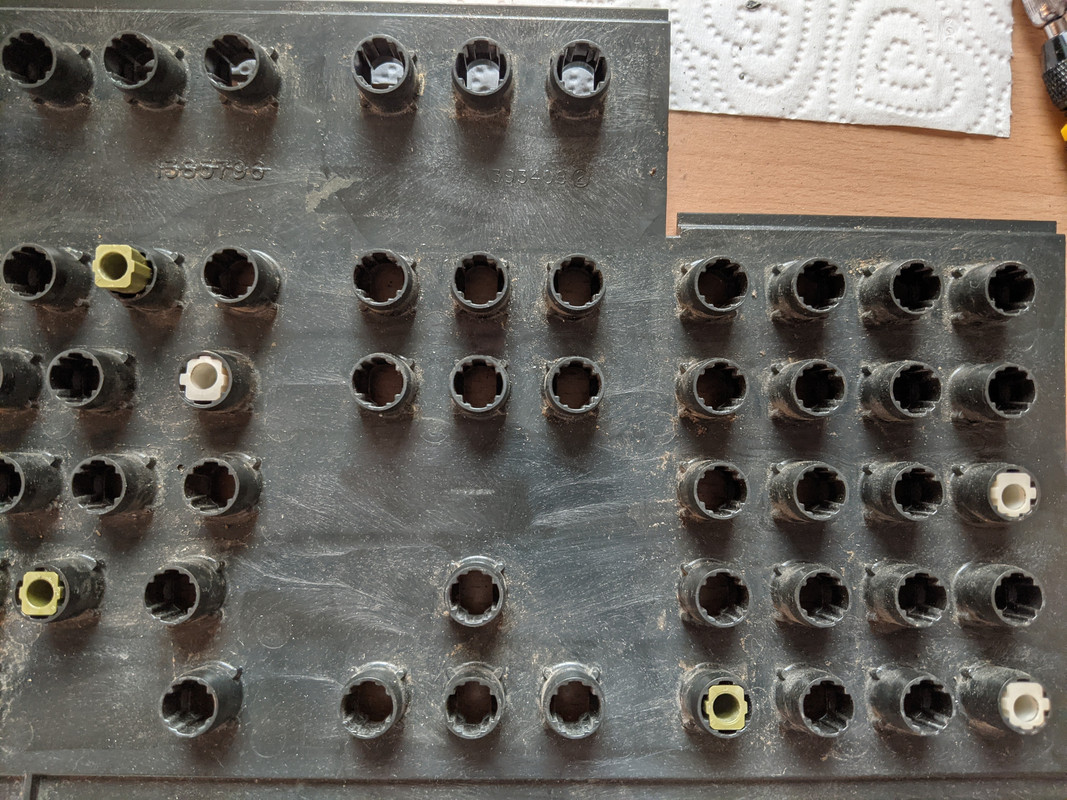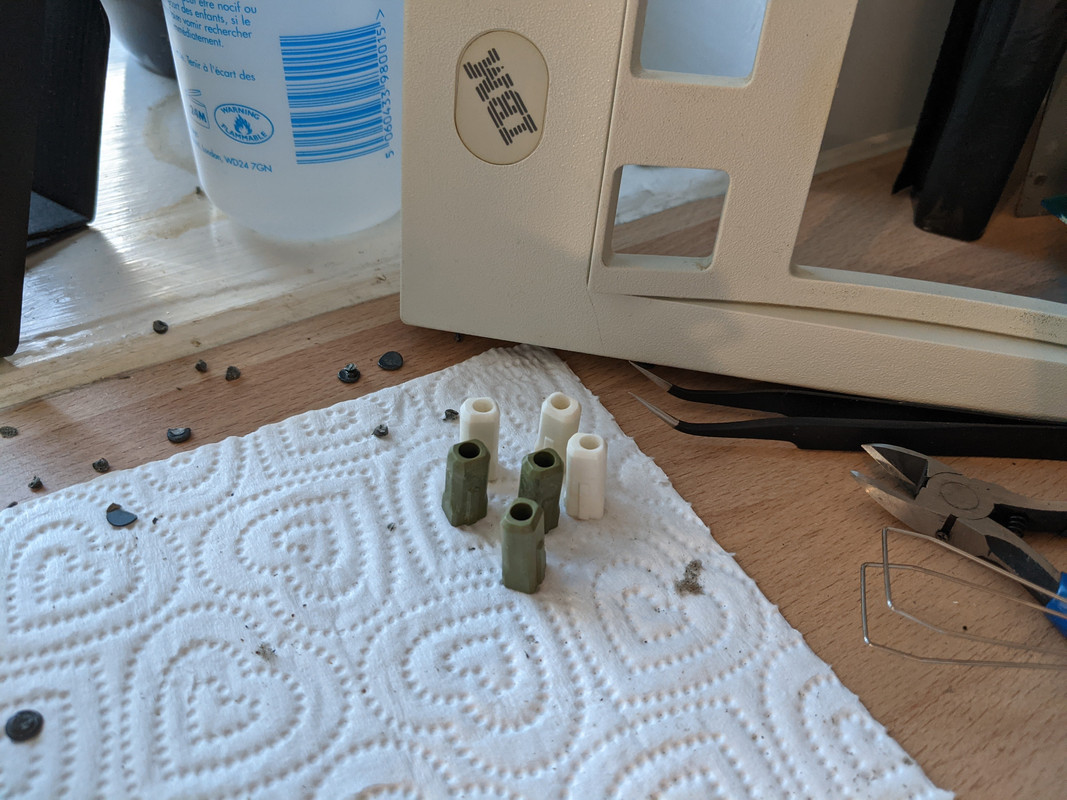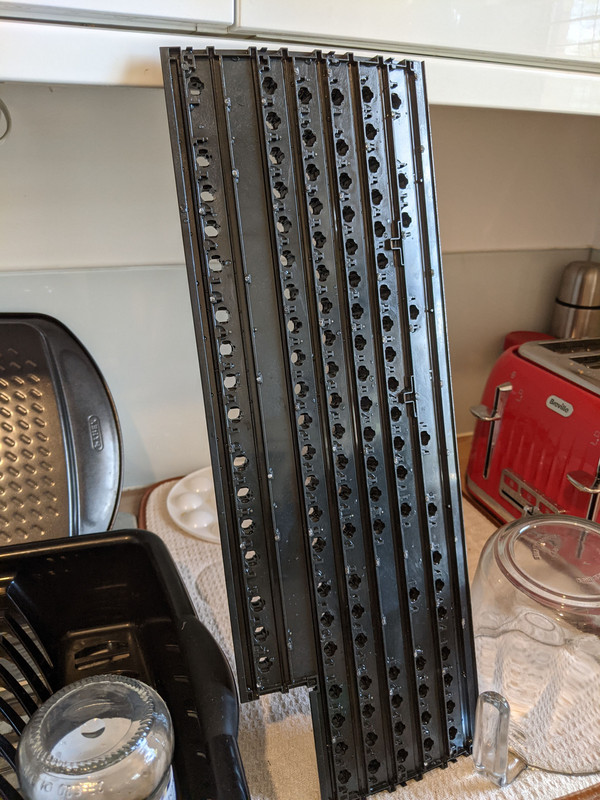 HARDWARE
This will be the first time I've done a bolt mod, so I've been trying to grab as much info on it as I can find. I'm finding that people seem to do it slightly differently, and I recall finding at least one reference to using locking nuts to prevent them popping off and creating a short, but I can't seem to find that again and from what I can see it looks like most people don't bother and just use ordinary M2 hex nuts. As it stands, I'm considering using
these machine screws
,
these washers
, and
deez nuts
, which I could theoretically pair with
jam nuts
(ow) to discourage them from falling off. However, that might not have enough space in the assembly (or on the screw) to work, so I might be better to use
nylon locking nuts
instead.
Any advice from the more experienced bolt modders amongst you?