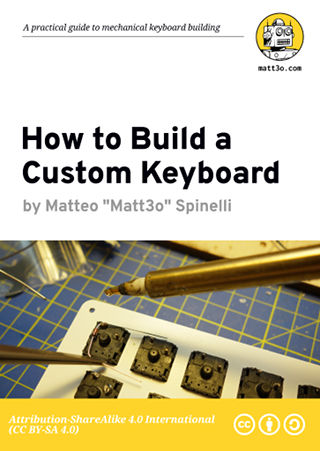 It took me a while, I started writing this guide two years ago but the first part is finally finished. This basically supersedes my previous guides I posted here on Deskthority 7 years ago (holy smokes!).
If you are interested the "book" covers everything you need to hand-wire a custom keyboard. From soldering to building the firmware. It's pretty long so I'm hosting it
on my website
.
The action takes place in the last two chapters:
Hand-wiring a custom keyboard
(yeah it includes a video tutorial) and
Building a keyboard firmware
but if you are at your first hand-wiring experience I'd suggest to start from the beginning.
The work is not over though. In the coming weeks I'll work on a PCB design tutorial and possibly some basic CAD to build laser cut keyboards.
If you have suggestions or spot any error please let me know. If you are following my tutorial and encounter any problem, this is a good place to post your questions. If you build any keyboard thank to my work, please post some pictures! And remember to share the guide with your friends.
The work is licensed under
CC-BY-SA
so you are free and actually encouraged to do whatever you want with it as long as you give credit and you redistribute under the same license. My site has no ADs and no tracking. The videos on youtube are not monetized.
Happy making!