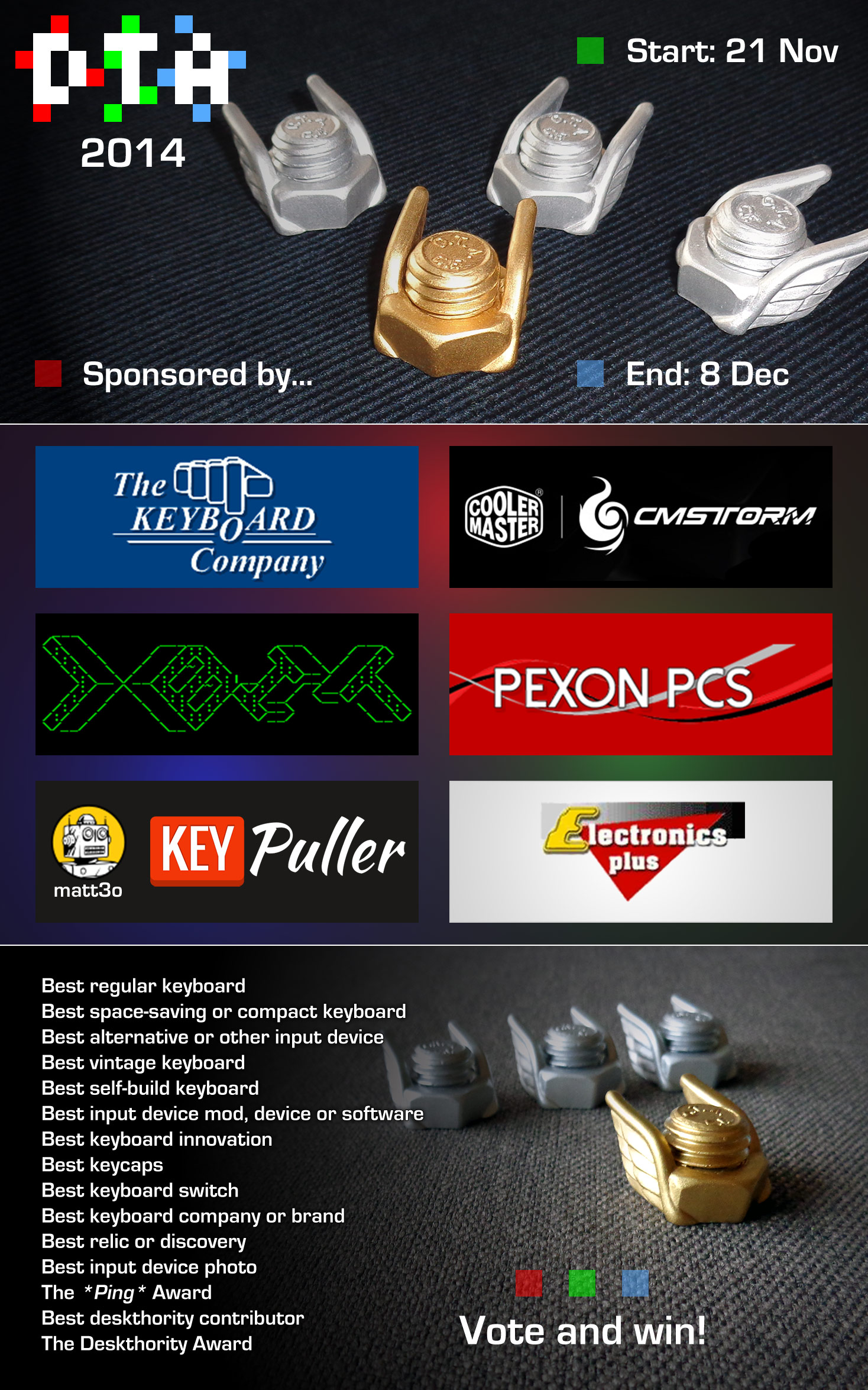 Welcome to this year's Deskthority Awards!
During this event, the members of deskthority vote for the best in a number of input device related categories, and for a main award, the Deskthority Award, which is an open category for what was extra special in 2014. Award winners will get a special Clack Factory Wingnut Trophkey. By voting you can win various prizes provided by our sponsors.
Timetable
Like in
2013
,
2012
and
2011
, there are three rounds.
First round (21 Nov - 26 Nov)
In this round you can suggest nominees for each category. All suggestions will make it to round 2.
Second round (27 Nov - 2 Dec)
Vote for the suggested nominees from round 1 so that the top 5 nominees in each category (or the top 4 or top 3 when there aren't a lot of choices) make it to the last stage.
Third round (3 Dec - 8 Dec)
The finals. Vote for the winners in each category out of the top nominees from round 2.
Vote & win
Voters in the final round can win various prizes provided by our sponsors
. The winners will be selected randomly from the voters in the third round, and will be announced on 8 December at the end of the Awards. You need a minimum of 10 posts on deskthority before the vote ends to be included. See the voter prize announcements for details.
The Award winners
The winners will be announced shortly after the vote closes on
Monday 8 December 20:00hrs UTC
by our special guest star, The Keyboard Oracle. The winner of the
*Ping*
Award will be announced by our guest star The Demongolator.
When a category winner is a deskthority member (except for the
*Ping*
Award), he or she will get a
special Deskthority Award Clack Factory Wingnut trophkey
! We commissioned the most famous of keycap artists clickclack to design and produce these trophy keycaps for the Awards. DTA winners will be the only people ever getting one of these keycaps. The winner of the main award, The Deskthority Award, will get a golden Wingnut. If a winner is not a deskthority member, this winner won't actively be tracked down and contacted so a Wingnut can be shipped - however, the Wingnut may be claimed until Juli 1st 2015 by contacting webwit at deskthority.
Important:
only
one
Wingnut is awarded for each winner. If you're a group and win, you have to timeshare, vote, draw, fight or do whatever your group decides, but you'll only get one Wingnut. The reason is that this award is exclusive and expensive, and that the problem of someone possibly missing out isn't solved by raising it to 2 or 3 for a group winning a category - there will always be a bigger group and someone missing out.