Welcome to The Deskthority Awards!
During this event, the members of Deskthority vote for the best in a number of input device related categories. They also determine the winner of The Deskthority, a special open category. Award winners will receive an exclusive Clack Factory Wingnut Trophkey. Vote in the final round to win prizes from our sponsors.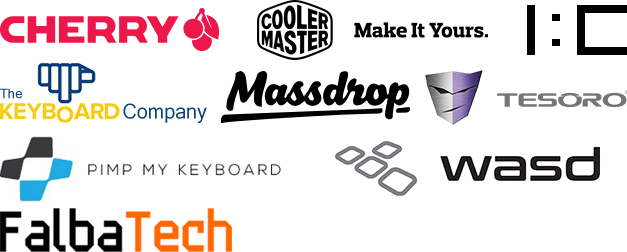 Changes to The DTAs:
This year brought sweeping changes to the awards. Previous award leaders passed responsibility to other community members. The result is a writing team. Variations in writing style will be visible in different categories. In addition, categories were updated. We combined a few to streamline the awards and better represent their competitive nature. Finally, new rules were adopted for the Best input device photo category.
Category list:
The Deskthority
• Go to
Round 1
•
Round 2
•
Round 3
The *Ping*
• Go to
Round 1
•
Round 2
•
Round 3
Best keycaps
• Go to
Round 1
•
Round 2
•
Round 3
Best keyswitch
• Go to
Round 1
•
Round 2
•
Round 3
Best artisan keycap
• Go to
Round 1
•
Round 2
•
Round 3
Best relic or discovery
• Go to
Round 1
•
Round 2
•
Round 3
Best input device photo
• Go to
Round 1
•
Round 2
•
Round 3
Best "other" input device
• Go to
Round 1
•
Round 2
•
Round 3
Best project or innovation
• Go to
Round 1
•
Round 2
•
Round 3
Best vintage keyboard or cache
• Go to
Round 1
•
Round 2
•
Round 3
Best modern keyboard or company
• Go to
Round 1
•
Round 2
•
Round 3
Timetable:
Like in
previous years
, there are three rounds.
First round (Nov. 20 - 26)
In this round you can suggest nominees for each category. All suggestions will make it to round 2 unless otherwise noted.
Second round (Nov. 27 - Dec. 3)
Vote for suggested nominees from round 1 so that 5 nominees in each category (or the top 4 or top 3 when there aren't a lot of choices) make it to the last stage.
Third round (Dec. 4 - 10)
The finals. Vote for the best in each category.
Vote & win:
Final round voters can win various prizes provided by our sponsors
. The winners will be selected randomly from the voters in the third round, and will be announced on Saturday 10 December, 2016 at the end of the awards. You need a minimum of 10 posts on Deskthority before the vote ends to be included. See the sponsor announcements for details:
Cherry
,
Cooler Master
,
FalbaTech
,
Input Club
,
The Keyboard Company
,
Massdrop
,
Pimp My Keyboard / SP
,
Tesoro
,
WASD Keyboards
The award winners:
The winners will be announced shortly after the vote closes on
Saturday 10 December 20:00hrs UTC
.
Category winners (except for
The *Ping*
) will get a
special Deskthority Award Clack Factory Wingnut Trophkey
! We commissioned the most famous of keycap artists, clickclack, to design and produce these trophy keycaps for the Awards. DTA winners will be the only people who legitimately receive these keycaps. The Deskthority award winner will get a golden Wingnut; regular award winners will be awarded silver Wingnuts. If a winner is not a Deskthority member, that winner won't actively be tracked down and contacted so a Wingnut can be shipped. The Wingnut may be claimed until Saturday 1 July, 2017 by contacting chzel at Deskthority.
The DTA Clack Factory Wingnut Trophkeys awaiting shipment in formation.
Important:
only
one
Wingnut is awarded for each winner. If you're a group and win, you have to timeshare, vote, draw, fight or do whatever your group decides, but you'll only get one Wingnut. The reason is that this award is exclusive and expensive, and that the problem of someone possibly missing out isn't solved by raising it to 2 or 3 for a group winning a category - there will always be a bigger group and someone missing out.
The DTA team:
Chzel, matt3o, rimrul, seebart, webwit, and wodan made this event possible. Kudos.
Honorable mentions:
The DTA team cannot win awards, but leaving their accomplishments unrecognized would be unfair.
matt3o - for the unique keycap sets and keyboards he brings to the masses
seebart - for all his witty and friendly comments everywhere, even if they seem to be continuously edited
webwit - for the work he does at DT
Wodan - for his HADapter GB and recycler-to-member sales