Alps SKCM Cream
Jump to navigation
Jump to search
This article is a stub. You can help Deskthority by expanding it.

| | |
| --- | --- |
| | This article requires photographic illustration |
Alps SKCM Cream is a tactile switch in the Alps SKCL/SKCM series, contemporary with Alps SKCM Blue.
Description
SKCM Cream is an undamped switch, and should not be confused with the more common Alps SKCM Cream Damped damped tactile switch. SKCM Cream switches have a much lighter colored slider. They are most commonly found is NeXT Non-ADB keyboards with the smaller non L enter.
SKCM Creams found in Canon Typewriters have been reported to be heavier.
However, other enthusiasts, who have had both NeXT non-ADB keyboard and canon typewriters in their collections, disapprove this statement, clamming that SKCM Cream in both are identical. Thus, in order for the previous statement regarding the weight of SKCM Cream switches in different input devices to hold true, further testing (i.e. measuring force) needs to be carried out.
Specifications
The following image, taken by alps.tw,[1] contains the only known official documentation on the tactile cream Alps switch: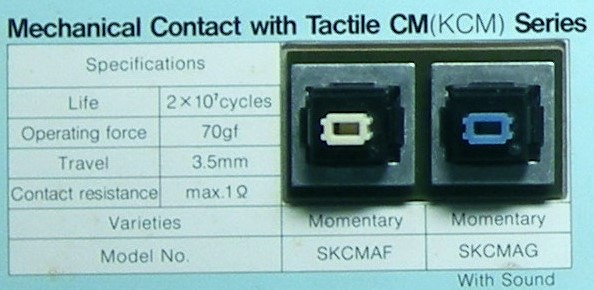 Variants
Known variants include:
| Switchplate | Alps logo | Slits |
| --- | --- | --- |
| Grey, long | No logo | With slits |
| White, long | No logo | With slits |
| White, long | Logo | With slits |
Keyboards
Canon typewriter keyboard (Alps part 12KC528H)[2]
Some NeXT Non-ADB (AAE, non L enter) [4]
Gallery
External links
References