Apple Smart Keyboard
Jump to navigation
Jump to search
This article is a stub. You can help Deskthority by expanding it.

Apple Smart Keyboard

| | |
| --- | --- |
| Keyswitches | Metal dome |
| Stabiliser | None |
| Interface | Apple proprietary |
| Introduced | 2015 |
Apple Smart Keyboard is a range of keyboards for Apple iPad tablet computers, with ultra low-profile keys.
There are different keyboards for different iPad models. Each attaches to the tablet with magnets, serves as a tablet stand and can hinge closed to cover the screen. It attaches via pogo pins.
The name is a play on the Smart Cover keyboard cover for some iPad models, which came before. There were also "dumb" covers without electronics inside.
Construction
The top surface is covered by a flexible keyboard condom of fabric glued to the frame surrounding the keys inside. The fabric has a rubbery feel and is supposed to be water- and dust-proof.
Each key switch consists of a wide keycap on top of a tactile metal dome. Each keycap is held in place by the flexible fabric and a groove in each corner.
A common misconception is that it would contain a butterfly-scissor mechanism. In fact there is no levelling mechanism: it only has the metal dome in common with those MacBook keyboards (2015-2019). The Space Bar's keycap does however contain a metal bar that provides enough stiffness and weight so that a press anywhere on its surface would make it actuate.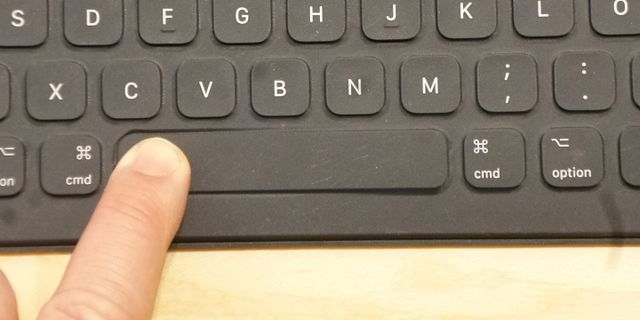 External links
See also