Cherry G80-11900
Jump to navigation
Jump to search
Cherry G80-11900
Part number
G80-11900, MX-11900
Manufacturer
Cherry
Layouts
104/105 Key US, DE, IT and many more.
Keyswitches
Cherry MX Black
Interface
Dual PS/2 (for keyboard and trackpad) or USB
Dimensions
415 x 193 x 37 mm /
16.3 x 7.6 x 1.5 inches
Weight
1100 g / 2.4 lbs
Years of production
Unknown
Price
~40-50€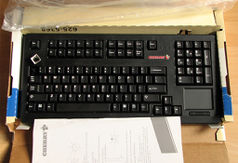 The Cherry G80-11900 TouchBoard is a series of PC-compatible keyboards with built-in trackpad. It is made by Cherry.
Variations
PS/2 models usually have a lasered Cherry logo on the left side (below ESC) and a cable that splits in two for trackpad and keyboard respectively. USB models usually have a red Cherry logo on the right side (below Pause/Break) and a single USB cable. Cherry G80-11900LUMEU (grey/USB; dated Z22) has a darker grey Cherry logo on the left side below ESC key.
Unlike the G80-11800, no older winkeyless models have been spotted.
Other model numbers
The G80-11900 has also been produced with the following model numbers.
| Model number | Branding | Colour scheme | Other information | Codes known to exist |
| --- | --- | --- | --- | --- |
| G80-11901[1] | Unbranded | Beige | | LSMUS[2][3] |
| G80-11903[4][5] | APC | Beige, black | | HRMUS[5], LPMUS[4] |
| G80-11906[6] | Cherry | Beige | Produced for Debenhams, 3-metre cable[7] | LPMGB[6]; HRMIT?[8] |
| G80-11908[9] | Unbranded[10] | Black[10] | | HRMDE, HRMES, HRMFR, HRMGB, HRMIT, HRMUS, HWMDE, HWMES, HWMIT, HWMUS[9] |
| G80-11911[11] | | -0 | | LPMRB |
| G80-11914[12][13] | Cherry | Black | | LUMEU |
| G80-11915[14] | Unbranded | Black | For Heathrow airport (PKS Services)[15] | LUMUS-2 |
Switches
All keyboards have linear Cherry MX Black switches.
Trackpad
The trackpad has two small buttons in front of it. The trackpad's (or "touchpad" as it's called in Cherry's English language documentation) resolution is 1000 dpi.
Layout and keycaps
The keyboard part has the same layouts (in both ISO and ANSI) and keycaps as the G80-11800 series with Windows keys.
Boards are light grey or black, with keys in the same colour. Keycap material has been lasered PBT (light grey), lasered with infill POM (black) and double-shot ABS.
All keys on the bottom row except the space bar are one unit wide. The space bar fits also the G80-11800 and G80-1800 with Windows keys, but no other board.
The right Shift key is 2 units wide and has stabilisers, unlike the G80-1800 where this key is 1.75 units wide. The ESC key, the keys on the function key rows (there are two of them) and numeric keypad keys all have the size and profile of the keys of the home row.
Gallery
See also
References