Cherry MX Low Profile
Jump to navigation
Jump to search
| | |
| --- | --- |
| | This article requires photographic illustration |
This article is a stub. You can help Deskthority by expanding it.

Cherry MX Low Profile RGB is a low-profile mechanical keyboard switch.
The switch has been designed to have a feel reminiscent of Cherry MX. It is only marginally compatible with its larger official name-sake.
Description
Cherry's goal when designing the switch family was to make a low-profile version of Cherry MX. The size was not reduced as much as it could have been, in order to retain an overall feel reminiscent of Cherry MX.[1]
To accommodate backlighting the bottom housing is translucent and the top is transparent with a crescent-shaped cavity for a surface-mounted LED to shine through. This is supposed to spread the light around the slider.[2]
Variants
| Name     | Step colour | Type | Total travel | Pretravel | Initial force | Tactile force | Actuation force | Bottom-out force |
| --- | --- | --- | --- | --- | --- | --- | --- | --- |
| Low Profile Red | Red | Linear | 3.2±0.25 mm | 1.2±0.3 mm | 40 cN | | 45±15 cN | 60 cN |
| Low Profile Speed | Silver | Linear | 3.2±0.25 mm | 1.0±0.3 mm | 30 cN | | 45±15 cN | 60 cN |
A clicky Blue variant has also been reported to be in development[1].
Key feel
The starting force of the "Red" switch is 40 cN, which is 10 cN higher than Cherry MX Red but similar to Cherry MX Brown. The force curve is almost flat, with actuation happening at 1.2 mm when a weight of 45 cN is applied. This makes it similar to Cherry MX Speed Silver. The switch named Cherry MX Low Profile Speed, however, actuates even earlier.
According to Rama Works, the switch is more stable on off-centre key presses than Kailh Choc low-profile.[3]
Compatibility with Cherry MX
The switch is not pin-compatible with Cherry MX and the overall travel is lower, at 3.2 mm. It does however fit a 14×14 mm plate hole, at a different height over the PCB.
While it shares the same cross-pattern keycap mount of it's larger name-sake, the keycaps are not entirely compatible. Most keycaps for Cherry MX could mount and be used actuate the switch, but could impact into something when pressed further down:
Thicker-walled keycaps (such Cherry/GMK doubleshots and thick PBT) or keycaps that narrow inside nearer the top would hit the switch housing which is wider on top than Cherry MX's.
Thinner-walled keycaps (such as OEM profile and those of Cherry MX-Board 3.0) would hit the mounting plate (if there is one) because of the additional skirt height. Vortex opted to make PCB-mounted keyboards that avoids this issue.[4]
Availability
Both switch types are available to buy separately.
Keyboards:
Cooler Master SK630, SK621, SK651 (Red)
Corsair K70 MK.2. (Speed)
Corsair K60 RGB Pro Low Profile (Speed)
Alienware AW510K
Upcoming keyboards:
Vortex Poker 3 V2, and Vortex 75 v2, with floating key design (PCB-level, plateless)[4]
The Speed switch was exclusive to Corsair during a limited time.[5]
Clones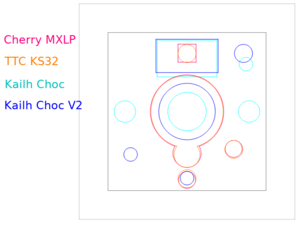 TTC KS32 series — with similar shape, keycap mount and footprint. Has clicky, tactile and linear variants.
Kailh Choc V2 — with similar shape and keymap mount but with a different footprint more close to Kailh Choc (version 1). Has linear and clicky variants.
Resources
Cherry has not published the datasheet with footprint publicly, but it has been sent to inquiring people by email that have posted it.
A KiCAD footprint has been published by Keebio in its Github repo.
Reviews
See also
References