Cherry MX mount recognition
Jump to navigation
Jump to search

These aren't the switches you're looking for? Got a different keycap mount? See switch recognition for other mounts. Many known switches will be missing; if in doubt, ask the forum.
---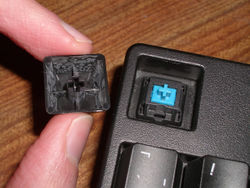 The following page lists switches with sliders with Cherry MX mount. Cherry switches have a slider with a 4 mm wide cross; the horizontal arms are ca. 1.25–1.30 mm thick, while the vertical arms are ca. 1.05–1.10 mm thick. All the following switches take Cherry MX keycaps.
If you are unsure whether your switch takes Cherry MX keycaps, and it is not listed here, try under generic cross mount recognition instead.
It should be noted that numerous rubber dome keyboards use sliders with "Cherry MX mount". The standard BTC design is depicted below, but there are many more.
Cherry
Non-MX
Note that Cherry M8 and Cherry MX mounts have the same horizontal dimensions, but the keycaps are not fully interchangeable due to differing stem height; see Cherry MX-M8 Adapter.
Cherry MX
Cherry MX clones
SMK-like
Other