Fun cluster
Jump to navigation
Jump to search
| | |
| --- | --- |
| | This article requires photographic illustration |
A fun cluster is a term for a cluster of function keys together, often to the left side of the main typing area.
The term is more often used for named keys with dedicated functions than for general-purpose numbered softkeys.
Some keyboards have more than one cluster, with different functions.
Xerox Star
One of the earliest computer systems with a fun cluster was the Xerox Star, one of the earliest systems with a graphical user interface. Drag and Drop had not yet been invented, so named keys in the fun' cluster on the left were used together with mouse clicks to perform actions. There was also named keys on the top of the keyboard for formatting text.
Some actions of the keys in the function cluster are these days most often available as commands in context menus. For example, the "PROP'S" key opened a "Properties" dialogue-box for the selected object.
Early keyboards had a cluster on the left:
| | |
| --- | --- |
| AGAIN | DELETE |
| FIND | COPY |
| SAME | MOVE |
| OPEN | Props |
... and a cluster on the right:
SKIP
N
E
X
T
HELP
UNDO
MARGINS
DEF'N
E
X
P
A
N
D
FONT
STOP
KEYBOARD
Later keyboards omitted the right cluster for a numeric keypad, and the left cluster was extended and rearranged into:
| | |
| --- | --- |
| STOP | DEL |
| UNDO | AGAIN |
| FIND | COPY |
| SAME | MOVE |
| HELP | PROP'S |
Xerox X998
Left cluster:[1]
FORMAT
DEL
⤓
PROGRAM
COPY
SEARCH
MOVE
STORE
RPLC
Right cluster:
MARK
PARA
PAGE
UND
LINE
ACCPT
SCROLL
WORD
RVRSE
CHAR
STOP
Xerox Docutech
Left cluster[2]
| | |
| --- | --- |
| STOP | DEL |
| UNDO | AGAIN |
| FIND | COPY |
| SAME | MOVE |
| OPEN | PROP'S |
Sun
Workstation keyboards from Sun Microsystems had several groups of function keys. On the Sun Type 3 the keys in a cluster on the left-hand side were labeled L1..L10, but they had often distinct uses in programs and stickers with names of them were available. Starting with the Sun Type 4 keyboard, the keys were named and a Help key was added. This continued with the Sun Type 5, Sun Type 6 and Sun Type 7 keyboards.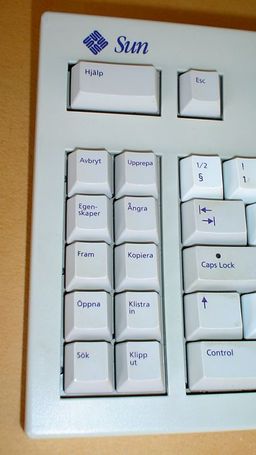 On Sun Type 4 the Help key was at the bottom.
Stop
Again
Props
Undo
Front
Copy
Open
Paste
Find
Cut
Help

On Sun Type 5 through 7, the Help key is above the cluster.
Help
Stop
Again
Props
Undo
Front
Copy
Open
Paste
Find
Cut
PC keyboards
Several various keyboards have been made with named function keys in various locations, often intermingled with media keys. The most often used are Cut, Copy and Paste.
Kinesis Freestyle
The Kinesis Freestyle line has a 2×5 fun' cluster on the left-hand side, except for the Freestyle Edge gaming keyboards on which they are instead generic macro keys. Above the cluster is a 2u Esc key.
Rubber-dome keyboards have vertical homing bars on the right side; keyboards with Cherry MX switches do not.
Freestyle2
Freestyle2 Mac
Freestyle Pro
Freestyle Edge
⇦
Web
⇨
Web
⇦
web
⇨
web
Desktop
Last App

①

②

Search
Web home
abc
⇤
abc
⇥
Select All
Undo

③

④

Cut
Del

undo

cut
Cut
Delete

⑤

⑥

Copy
Paste
select
all

copy
Copy
Paste

⑦

⑧

Fn
Menu

fn

paste
Fn
Menu
Fn

☼
In the original Freestyle, the Fn and Menu keys' position was swapped, and the Mac version had Cut, Copy and Paste keys on the left.
An early concept for the Freestyle Pro/Edge showed media keys in the fun cluster. [3]
See also
References