Futaba MA series
Jump to navigation
Jump to search
Futaba MA series
Manufacturer
Futaba
Switch type
Clicky, linear, alternate action
Rated lifetime
50M, 10M with LED, 100K(Lock)
Actuation force
60±25 gf, 80±25 gf
Total travel
3.8±0.5 mm
Keycap mount
Proprietary; Cherry MX mount
Switch mount
Plate mount
Futaba MA series (formerly Futaba clicky switch) is a series of keyboard switches produced by Futaba and Sejin Electron. The most common form taken is that of a medium stiff, tactile, clicky stacked spring switch. The series encompasses light and heavy weights, click feedback, illumination and alternate action variants.
Nomenclature
Discovery of several model numbers shows the common portion of the codes to be "MA", and as such this is being taken to be the series name until such time that documentation surfaces. The previous name of "Futaba clicky switch" was chosen to distinguish MA series from the various first-generation types collectively classified as Futaba linear switch. While MA series remains conjecture, it provides a name that covers the apparent linear types (heavy momentary) and alternate action types.
History
The Futaba clicky switch (provisional name to differentiate it from their earlier linear switches) was a keyboard switch produced by the Japanese company Futaba. It was in many Korean keyboards, mainly by Sejin Electron. In the foreign market, the keyswitch was first sighted in a 1986 keyboard made by Datacomp in Taiwan. Many Japanese keyboards also made use of the Futaba keyswitch. The last keyboard known to be produced with Futaba switches was the Sejin Electron SKM-1040 left-handed full-size keyboard, which has been re-branded under many different names. Futaba keyboard switches are no longer in production, and Futaba believe that no records remain of any keyboard switch types.
Details
MA series switches are branded "Futaba" on the bottom. Confirmation of identity requires de-soldering the switch from the keyboard. The switch shell is held closed by melted pins; the switch would require glue to reassemble it once the pins have been destroyed. The switch has three legs, in an asymmetric arrangement relative to the branding, with two legs on the left (top-left and bottom-left) and one on the centre right. The top-left and right legs are connected together.[1]
The same keycap mount and slider design was later used for the Sejin Futaba-mount dome switch, which used rubber domes over membrane.
The clicky versions use a stacked spring arrangement.
Variants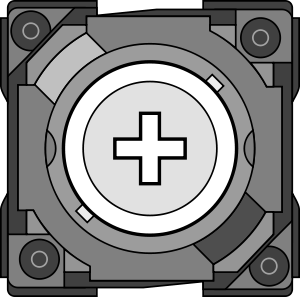 Known variants include:
| | Sub-type | Type | Keycap mount |
| --- | --- | --- | --- |
| | | Momentary, clicky | Futaba (old?) |
| | | Momentary, clicky | Futaba (old?) |
| | | Alternate action | Special |
| | MA-41 | Momentary, clicky | Futaba |
| | MA-41 | Momentary, clicky | Cherry MX |
| | MA-42 | Momentary, linear | Futaba |
| | MA-42 | Momentary, linear | Cherry MX |
| | | Momentary, heavy | |
| | MA-4A | Alternate action, Lock | Special |
| | MA71 | Illuminated, clicky | |
| | MA72 | Illuminated, linear | |
Most Futaba clicky switches have an inverse cross mount, i.e. the cross is on the keycap, and the slot is in the slider. The keycap stem and the slider each have a two-stage mount, with a smaller cross followed by a larger cross. These switches have been found with white and cyan sliders. Sejin-made keyboards typically use this slider.
There is also a much less common variant with a Cherry MX-compatible slider; these are found in several Chicony keyboards (including some KB-5161 and some KB-5181) and in some Focus keyboards.
The keycap mount is not believed to be indicative of any difference in keyfeel.
The slider colour does have significance, but the details of which are not well documented. Cyan and blue are reported to feel and sound different.[1] At least two keyboards have been found with a stiffer switch used for the space bar, with a dark grey slider[2][3] or a cyan slider[4].
There is also what appears to be an older variant with a different slider. This variant is welded closed along the sides, and is found in the NEC PC-8801-KI.
Specifications
Four series, model or part numbers have been recovered, along with their specifications.[5][6]
The keycap mounts for these switches are neither described nor depicted, and the well-known latching version is not listed.
Characteristic
MA-41
MA-42
MA-71
MA-72
MA-4A
Action
Momentary
LED
No
Yes
Tactile feedback
Yes
No
Yes
No
Operating force
60±25 gf, 80±25 gf
Travel
3.8±0.5 mm
Pretravel
0.8 mm or more
Overtravel
0.7 mm or more
Bounce time
5 ms max (throughout lifetime)
Mounting pitch
19.05 mm
Lifetime
50M
10M
Specification
FS-6015A4
FS-6016A4
FS-6007A7
FS-6016A7
The MA-41 [sic] switch specifications are also found in the Sejin Electron SKM-2040 User's Manual; here the switch lifetime is given as 10 million cycles, and the bounce time as 10 ms.
The specifications are written out as unformatted text, which loses some clarity. As a consequence, the distinction between MA41 and MA42, and MA71 and MA72 isn't clear. Since the heavier space bar switches in keyboards do click, the reasonable interpretation is that both weights apply to each of the clicky and linear switches.
The existence of a momentary linear version of the switch has long been in dispute. Sejin Electron SKM-1040 is specifically reported by a reseller to be linear, and this would fit in with the interpretation of MA42 as the linear equivalent to MA41. Most reports of linear[7] and tactile[8] versions of the switch are likely referring to worn switches that no longer click.[9] Such switches have never been examined internally as they cannot be opened non-destructively.
The alternate action version is however confirmed to use a different contact arrangement that appears to be linear, and this may be what is used inside MA42 and MA72.
Keyfeel
The Futaba switch design typically encountered is a clicky and tactile switch. The keyfeel has high hysteresis, with the actuation click occurring around 2.5 mm into the approximately 4 mm travel, and the release click occurring at 1 mm from the home position. The switch is very smooth, with a gentle rise in force, and only a small decrease in force after actuation. The switch has been demonstrated to have a loud ringing sound on a variety of pitches, like a higher-pitched IBM Model F.[10]
Keyboards
Early type
Later type
Clicky
Linear
Gallery
Futaba mount variant
Cherry MX mount variant
Early version
The following is not confirmed to be the same switch as the regular Futaba clicky switch, as the internals are not known to be documented.
The switch is designed to support an external conical spring to provide extra weight.
Two different gauges of external spring (ca. 0.25 mm and 0.5 mm) giving 20 gf and 190 gf extra force respectively (from an NEC PC-8801mkII keyboard)
References