Key Tronic
Jump to navigation
Jump to search
Key Tronic EMS
Industry
Computer peripherals
Founded
1969
Headquarters

Spokane, Washington

,

USA

FCC grantee code
CIG
Website
www.keytronic.com
Key Tronic is an American keyboard manufacturer.
Although its products were widely popular in Europe in the 1990s and early 2000s, the company does currently not have any European distribution.
Products
Brand identification
Key Tronic keyboards often lacked any specific identification on the rear label. Instead, the rear label often followed a particular format that readily identifies Key Tronic keyboards, marked with codes "S/N" (serial number?), "M/N" (model number?), "M/O", "A,K", "K,E", "S,K" and "CPN" (customer part number?):
Technology
ErgoForce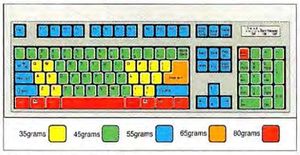 Key Tronic is known mostly for its "ErgoForce" technology where different keys have rubber domes with different stiffness. The alphabetic keys intended to be struck with the little finger need only 35 grams of force to actuate, while other alphabetic keys need 45 grams. Other keys can be as stiff as 80 grams.
Key Tronic's rubber dome keyboards are known to be quite tactile and provide a relatively distinct landing.
Foam and foil
During the 1980's Key Tronic manufactured many keyboards with foam and foil capacitive technology under their own brand and as OEM.
Key Tronic's foam and foil keyboards could come with either buckling rubber sleeves (tactile feel) or coiled springs (linear feel). The foam dampened each key below the actuation point providing a somewhat soggy landing. Impressions of the switch are mixed; although some in the keyboard community like the switch, others heavily dislike it.
Gallery
Known serial numbers
| Serial # | Date |
| --- | --- |
| 06682 | 07/1977 |
| 14987 | 12/1977 |
| 24806 | 07/1983 |
| 24834 | 08/1984 (Tandy) |
| 62112 | 06/1982 |
| A079357 | 08/1989?[1] |
External links
References