SGI Bigfoot series
Jump to navigation
Jump to search
| | |
| --- | --- |
| | This article requires additional photographic illustration — missing models, and full details of listed models |
| | |
| --- | --- |
| | More information is available in material written in Chinese; please translate this material and incorporate the translated text into this wiki page. |
| | |
| --- | --- |
| | More information is available in material written in Japanese; please translate this material and incorporate the translated text into this wiki page. |
| | |
| --- | --- |
| | More information is available in material written in Korean; please translate this material and incorporate the translated text into this wiki page. |
SGI Bigfoot series is a series of Silicon Graphics (also called SGI) Alps Bigfoot keyboards with Alps SKCL/SKCM series switches. The best known of these keyboards in the West is 9500900, known as the SGI Granite keyboard for its distinctive granite-pattern case. Part number 041-0136-001 also has a granite case, but it is not PS/2.
Description
SGI Bigfoot keyboards were made for SGI's UNIX workstations, and most of them have PS/2 support. SGI Granite keyboards in particular are typically found with Alps SKCM Cream Damped switches, but Alps SKCM White Damped switches were also used in some of the models. Alps SKCM Black switches have also been noted in the SGI Bigfoot series.
The models with later part numbers have the subtle function key reference strip ridge above the function keys; older models omit this.
Some models are labelled "U.S. AT-101 Keyboard" (or similar) on the rear; this may only apply to the PS/2 versions.
SGI Granite
"SGI Granite" refers to the model with part number 9500900, which is one of the PS/2 models. There is also an SGI-protocol model with a granite case.
The "Granite" keyboard was phased out from SGI's product line and replaced by a version of the NMB RT6856T. That keyboard also has a granite-pattern case, but it is a rubber dome keyboard. Collectors do not often use the name "SGI Granite" for this keyboard, but it can often be seen for sale as such. It can be told apart from the mechanical "Granite" by it having a smaller footprint, that the key legends are not in italics and that the cable channel is inside a shelf on the back (not the underside).
Models
All models are US-made and US 101-key ANSI unless otherwise noted. Most of the details below come from Nogujyu Keyboard Mania.[1]
Gallery
SGI Granite
9500801
041-0136-001
Part number 041-0136-001 is the other granite-coloured model, which is not PS/2 compatible, and has a slightly different case.
9500829
US-made example
Externally, this keyboard is indicated as "Made in USA", while the PCB internally is marked "MADE IN KOREA", possibly by Gold Star Alps; the Western factories likely completed only the final assembly. The chip contains the inscriptions "342-0313 1.0 0300" and "ALPS02104111991" while the PCB is marked "D93.05"; none of these codes are variable as they are completely identical to Scarface's example with a much higher serial number (20144).
Ireland-made example
Related keyboards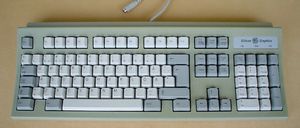 The SGI Bigfoot keyboards were variations of an OEM design manufactured by Alps often called Alps Bigfoot. The most common of those is the Dell AT101 series which have other types of Alps SKCL/SKCM series switches.
The SGI-branded variation of the NMB RT6856T rubber dome keyboard has a granite-coloured case, but is not called "SGI Granite" keyboard by most collectors.

External links
References