Cherry MX Brown
Jump to navigation
Jump to search
The Cherry MX Brown switch is a light, tactile, non-clicky mechanical keyboard switch in the Cherry MX family.
Cherry MX Brown
Manufacturer
Cherry
Family
Cherry MX
Product name
Soft tactile
Product code
MX1A-G1xx
Introduced
1994
Switch type
Tactile
Sense method
Metal leaf
Actuation force
45 cN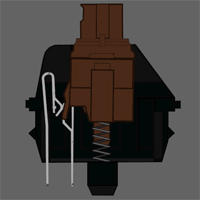 History
The switch type was created as response to a request from Kinesis who wanted a tactile, low-force switch without the clicky sound of the Cherry MX Blue. Their contoured keyboard, introduced in 1992, was the first keyboard with the switch.[1] Cherry used them first in 1994, as the default switch in Cherry's first own ergonomic keyboard, the G80-5000. Then officially named "ergo soft" it was not found in the default Cherry product catalog and was only available as a special order item. After the G80-5000, Cherry did not officially release a keyboard with the MX Brown switch under their own brand until the G80-3800 in 2011. However, POS boards containing the switch, such as the G80-1950 and the G80-8113, were available earlier.
MX Brown switches continued to be used in OEM orders, especially for Compaq server hardware. The more common Compaq G80-11800 is considered to be a good donor board for MX Brown switches, while the much less common Compaq G80-1838 remains a relatively rare collectors item.
Nowadays, the Cherry MX Brown is a popular switch and available from Cherry directly. Many mechanical keyboards continue to be available with Cherry MX Brown switches. It was voted Best keyboard switch at the Deskthority Awards 2011.[2]
Key feel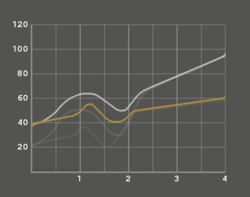 Light, tactile, non-clicky. Compared to other tactile Cherry switches, such as the Blue and Clear, the tactile point is much less pronounced. It feels mostly like a linear switch if pressed hard. It is easier to feel the tactile point if the key is pressed lightly.
Enthusiasts who have been unhappy with the lightness of the tactile point have instead transplanted the slider from a Clear switch to create the "Ergo clear", which is much less smooth.
Availability
As of 2012, these switches are available from the manufacturer, or through re-sellers.
Esoterica
The switch is sometimes called "Tea axis" in Asia. The Chinese and Japanese word for "brown" (茶色) literally means "tea colour".
Keyboards with Cherry MX brown switch
Keypads with Cherry MX brown switch
Gallery
Disassembly
The following switch was purchased new from The Keyboard Company in February 2013.
References