SkiData
Jump to navigation
Jump to search
The SkiData keyboard PCBs are manufactured by GMK, Germany, for the Austrian software firm SkiData. The shells were designed by KID (Kiska Industrial Design) and made by an Austrian manufacturer.
Keycaps in the lower half of the keyboard are double shots and pad-printed from Cherry. The following keys are pad-printed: function keys (front-printing), Break (Pause), Num-Lock, Caps-Lock. All the keys on the upper half are relegendable.
Variants
DE, NO, Italian and US layout with or without trackball.
All known variants come with MX Clears and n-key rollover.
No other keyboards with this case have been discovered yet.
Some of the keyboards with German layout have a swapped y and z key, leading to keycaps with wrong shape in the respective rows. When mounted correctly the resulting layout is German with 'qwerty' on row 2.
Features
At least the function keys are programmable by using a proprietary software.
The main keyfield, F-row, and the trackball work without modifications.
 The top-left button on the trackball works as a middle click for scrolling. 
 The top-right and bottom-right are left-click and right-click respectively. 
 The bottom-left button toggles the led on the trackball, and changes the left-click and right-click into toggle switches.

Gallery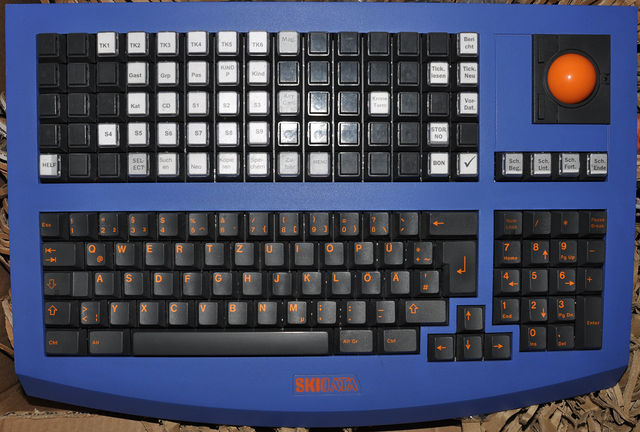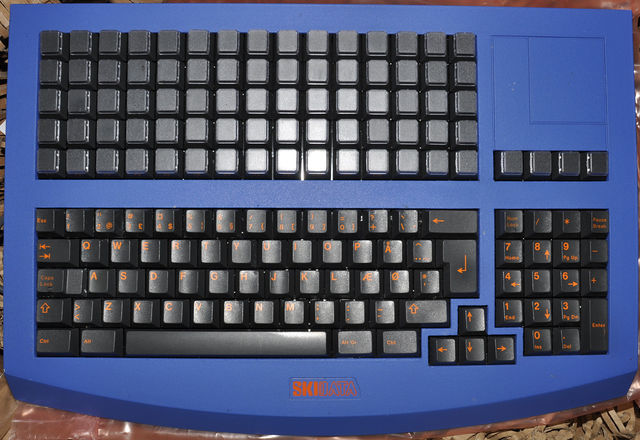 How to disassemble
Turn it upside down. Make sure it is on a smooth surface, so nothing gets scratched!
Undo all screws, turn it up again and lift up the cover.
See also