[Update]
I just had a high resolution photo of this board taken. Maybe this will help someone with a bit more knowledge decipher this keyboard or be of use in some way.
The full size 7251 x 4239 image can be seen here:
Full Size Image
Or from the album here:
Flickr Album
....
This just arrived from in the mail from Japan and wanted to share. I haven't done a full teardown yet but here are some poor quality pictures and a little information on what I have learned about it.
What is it?
battleship

aircraft carrier

???
I say call it the Yamato or the space battleship Yamato, a super-capital ship out classing previously known types of large warships. Some say this keyboard monster should be referred to as the 'kaiju keyboard' inspired by a Japanese genre of films featuring giant monsters.
On a more serious note this is a Japanese typesetting keyboard used to input Japanese characters into a computer before modern methods such as sophisticated kana to kanji converters (known collectively as input method editors, or IMEs) were developed or feasible.
I counted 542 keys with a 30×16 matrix and 9 usuable shift keys, which makes it among the biggest keyboards ever made. It also tops the scales at about 11.92 kg.
Rather than making use of a kana-to-kanji conversion as used in modern times this keyboard truly is full-size with the ability to key in over 4000 unique characters. There are 9 characters on each of the main keys on the right side and you would select one of them with something like a numeric keypad on the left side.
Interestingly in the early 1980s, Yamada Hisao offhandedly mentioned in the book "Cognitive aspects" that "With the advent of modern electronics, Alps's Push Key input device actually provided about 3,500 push keys, each 6 mm square, for direct inputting." A connection of mine reached out to Alps Electric and many others but could never get any confirmation for this existing. A keyboard with 3,500 individual keys sounds outlandish but perhaps plausible as a 59x59 matrix gives you 3,481 keys while using tiny 6 mm push buttons would reduce the overall size. Regardless such a keyboard would be quite large and difficult for operators to use.
Perhaps this is the closest analog to such a device as described if you consider each 1/9th of a key a separate key. I measured each character to be about 4 mm square.
Although this keyboard was manufactured by Alps Electric it was likely used with one of Morisawa's computerized phototypesetting systems. Morisawa is a company that has developed and manufactured typesetting equipment since the 1920's and today is the leading digital type foundry in Japan.
More Info on this company:
https://ja.wikipedia.org/wiki/%E3%83%A2 ... 5%E3%83%AF
Morisawa's MK-110 (Skip to 0:42) Morisawa's MK-300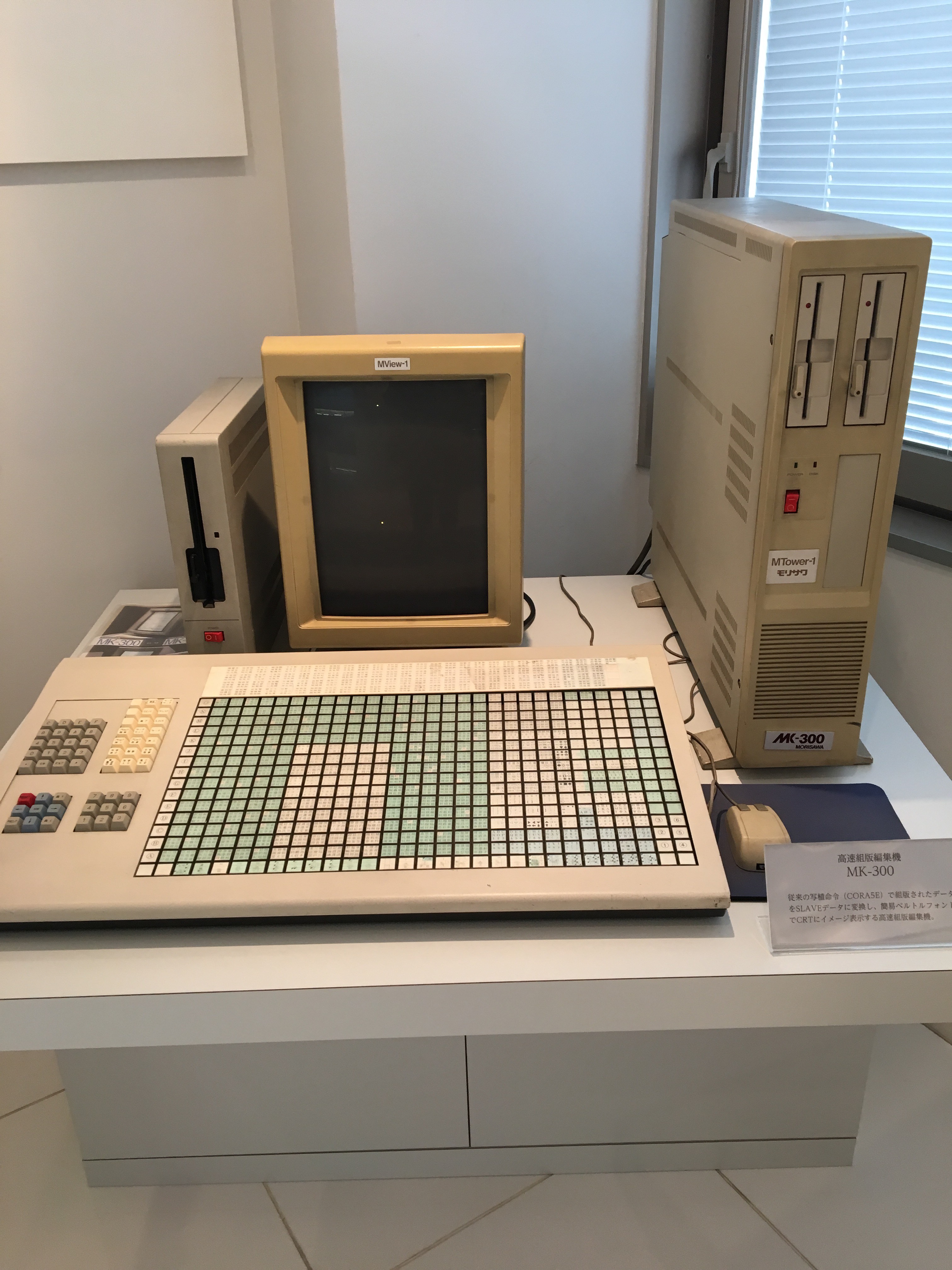 This particular keyboard seems to be a later revision compared with other known examples of those from Morisawa's machines so the machine this particular keyboard went to is yet unknown. The initial profile where the wrists meet the keyboard appears lower and more defined to improve ergonomics. The keys of the main matrix are raised rather than flush with the top shell of the case. Looking at the serial number I believe this keyboard to have been manufactured in the 6th month of 1989 while being the 394th unit of this type produced.
[Todo:]
Another Alps rabbit hole:
Maybe related to this keyboard and Morisawa?
A few pictures for now: