This is a compatibility kit for Comptec DCS keycaps from vintage Wyse keyboards. It will be produced by Signature Plastics in their modern DCS profile.
New kits and pricing!
Please fill out the new survey form!
My apologies to anyone who filled out the old form, this one is much simpler.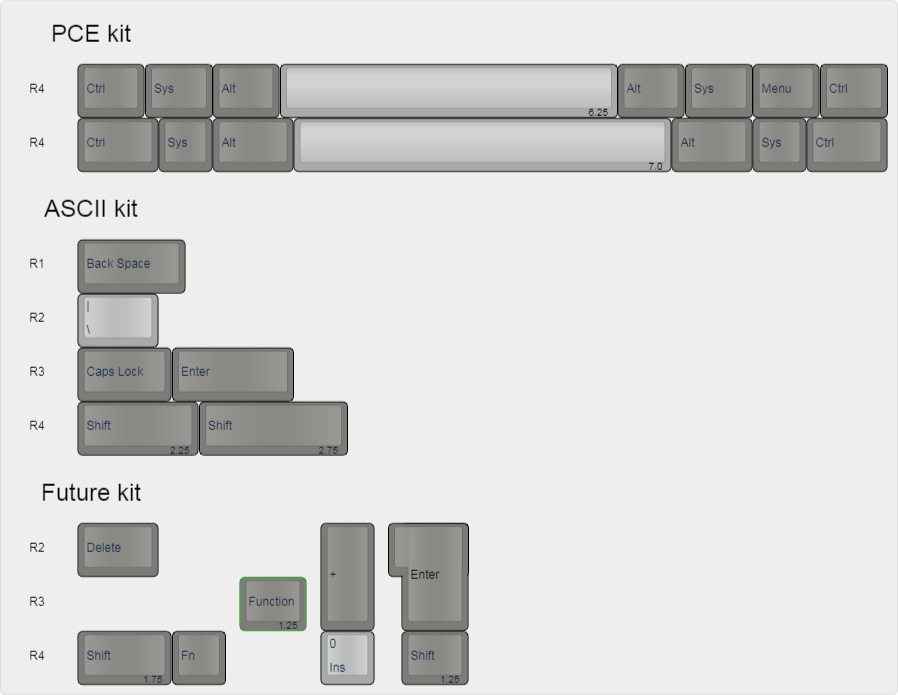 Price targets
@ 75 MOQ
PCE kit: under $40
ASCII kit: under $20
Future kit: under $20
GB start date
: early 2020.
The PCE kit is sufficient for using keycaps from keyboards with the "PC Enhanced" (aka "PCE") layout. The ASCII kit provides additional compatibility for "ASCII" layout keyboards such as from the WY60 and WY30 terminals. The Future kit is for additional compatibility with various modern keyboard layouts.
Note that ASCII-layout keycaps tend to be in worse condition than others. They also have non-standard modifier legends in the top-left position. Signature Plastics DCS legends are positioned center-left. I will do my best to color-match across Wyse variants, but brand-new ABS will never match the appearance of well-worn and sun-yellowed ABS.
Colors
(not finalized)
wiki/File:WYSE_SP_colors_001.jpg
Dark gray: GTD
Light gray: GSX
Blue legends: BBI
There is currently a similar interest check
in progress on Kbdlab
. I am working with the designer to try and combine our projects. This would mean larger order quantities and lower prices for everyone.
If you're interested in helping with this project, please PM me here or contact me on Discord at [tt]salt rock lamp#0679[/tt]. I am especially looking for international proxies and marketing connections to non-English-speaking keyboard communities.
You can also follow the
Geekhack thread
for more timely updates.