SMK Alps mount
Jump to navigation
Jump to search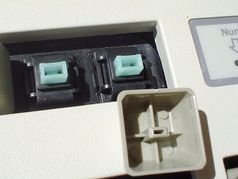 SMK Alps mount switch is a provisional name for the Alps mount variant of the SMK second generation family. The most common variety is the clicky variant with the blue slider, widely referred to as a Monterey switch; the popular moniker "Monterey" owes its origin to the switch being discovered in a Monterey K104 keyboard, and the choice of name is attributed to Japanese keyboard collector MouseFan.[1] The tactile variety was used in the Apple Desktop Bus Keyboard, suggesting an introduction date of 1986 or earlier.
Description
The keycaps are compatible with Alps SKCL/SKCM series switches, but the switch has a different mounting hole and pin layout. A coiled spring provides most of the resistance, and there are two leaf springs for contact and click/tactility respectively.
This is the only SMK second generation switch to lack fixing pins, making it plate mount only.
The switch's feel has made it well regarded among keyboard enthusiasts.
Authenticity
Unlike other switches in this family, the base of the Alps-mount switches are not SMK branded; this led many people to believe the switch to be a copy.
The Apple IIGS Technical Procedures confirm that the tactile version in the Apple Desktop Bus Keyboard is SMK.[2] Both Monterey and Chicony have confirmed purchasing these switches from SMK.[3][4] No reason for the lack of branding is known, although another difference with this variant is the lack of PCB fixing pins. A diode symbol on the base of the branded Cherry MX mount variant (which lacks support for diodes) indicates that design errors did occur when retooling.
Key feel
The switch has a tactile bump just before actuation where it also clicks. It actuates near 2 mm into the stroke and bottoms out at 3.6 mm. It feels a lot like a Cherry MX Blue switch but with sharper tactility. Unlike the Cherry MX Blue, it does not have hysteresis.
Variants
Keyboards
Gallery
Comparison with inverse cross mount
The inverse cross and Alps mount variants are broadly similar. Aside from the obvious and mandatory differences, the contact leaf shape is subtly different, and the static contact uses thinner wire.
External links
References